Add a Zero Discount Group
Add a Zero Discount Group to ensure no discount is calculated on financial items.
---
Introduction
In a Sales Order, where you want to add lines that are classified as financial or non-stock items, you can ensure they do not have discount deducted by adding a Zero Discount Group and attaching this to the stock item you use for these lines. An example is adding a deposit that a customer makes for purchases from your showroom.
---
Add a Zero Discount Group
Go to Administration > Discount Groups.
Click New discount group item.
In the Create New Discount screen:
Code: Enter a Code for the Zero Discount group.
Description: Enter a Description.
Click Confirm.

This takes you to the Details screen.
As we do not want any discount for this group, there is nothing more to set up.
When you have attached this Discount Group to a Stock code, e.g. for Deposits for stock, that you might use for deposits a customer would pay for purchases, that Stock item will be displayed on the Items tab.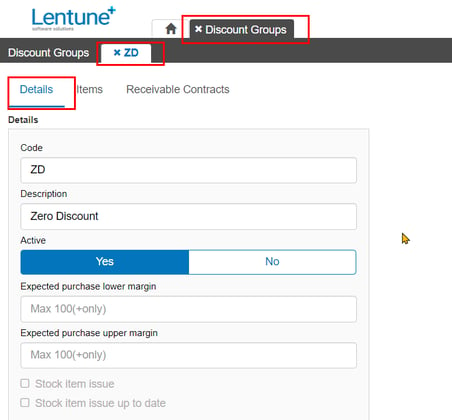 ---
Was this helpful? If you require further assistance, or would like to contact us about this article, please email us at support@lentune.com.
Thank you. We value your feedback.
Last updated: 24 November 2022