You can approve a Purchase Order in the App.
---
Introduction
You can approve a Purchase Order from the Lentune App.
---
Approve a Purchase Order in the Lentune App
If you have Purchase Orders to approve, you will have received a notification to tell you.
Open the App on your phone or mobile device and login.
Tap Purchase Orders.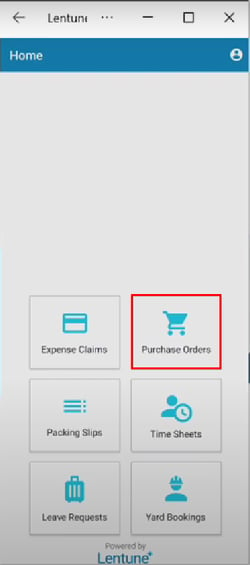 This takes you to the list of Purchase Orders.
Tap My Approvals in the bottom right corner.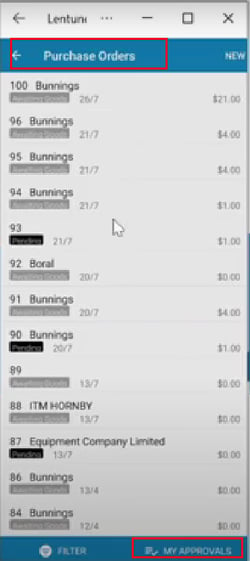 This shows you all the Purchase Orders that are ready for you to appove.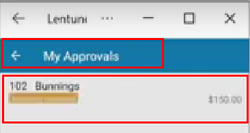 ---
Open the Purchase Order to approve
Tap the Purchase Order to open it and view the details. The Status will show as Awaiting Approval.
Now you can view and check all details for the Branch, Project and Cost code and items for this Purchase Order.
If you need to add more items, tap on NEW ITEM in the bottom left.
If there are documents to view, you can Tap DOCUMENTS.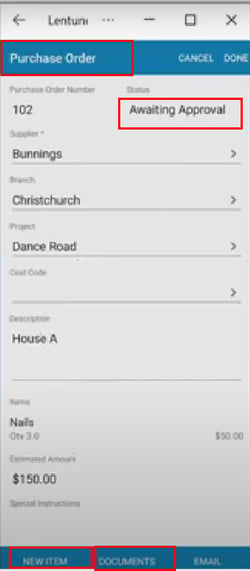 Otherwise, scroll down to view or add any Special Instructions, the Delivery Address or Internal Notes.
If everything is correct, tap APPROVE.
If the Order is not correct, tap REJECT.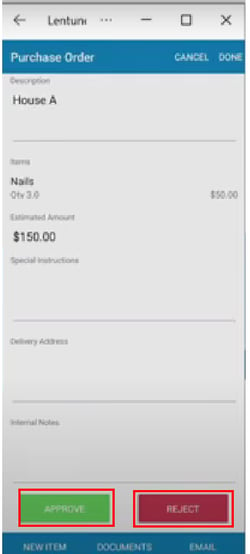 This takes you back to the My Approvals screen.
Tap the Back Arrow.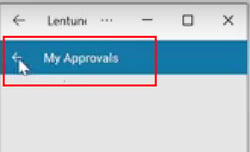 This takes you back to the Purchase Orders screen, where your Purchase Order is now shown.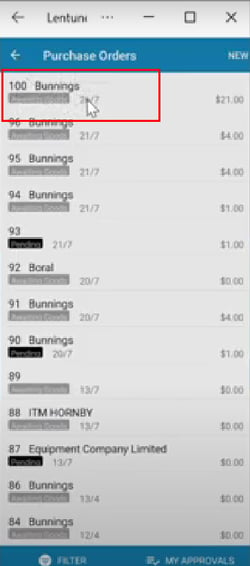 ---
Watch the Video
Prefer to watch the video? Watch here as Charlie shows you how:
---
Was this helpful? If you require further assistance, or would like to contact us about this article, please email us at support@lentune.com.
Thank you. We really do appreciate your feedback.
Last updated: 29 September 2022