Create and send one or all Receivable Account Statements in Lentune ERP.
---
Introduction
You are able to send a statement to all or selected Receivable Accounts after you have created Statements.
The first step is to create the Statements and then they will be emailed out by an end-of-day scheduled task. If you want to send or re-send a statement to one specific Receivable Account, you can do that from the Receivable Account screen for that Entity.
Send Email Statement to:
Statements are sent out as email attachments to the email address that is set up on the Options > Statement options > Statement delivery contact point for the Receivable Account.
Send Email Statement from:
The email has a Sent address as set up on the Email Manager > Default email > Default email address in your database. However, if you send the statement manually it will use the logged-in user's email address as the sender's address.
---
Create Statements for your Receivable Accounts (Debtors)
To create Statements:
Go to Receivables > Monthly tasks > Create Receivable Account Statements.
Click Load accounts requiring statements.
This will load the
Receivable Accounts
that require a statement to the screen.
This will create the Statements for all those Receivable Accounts that are displayed.
Statements will be created for Receivable Accounts that have a non-zero balance.

Next the Statements will be emailed at the end of the day by the scheduled task, or you can select one Receivable Account if you wish to send only to one Account.
---
Set up the Scheduled Task to send Receivable Account Statements at the End of Day
Go to Settings > Task Scheduler.
Click New Task Scheduler.

In the New Task Scheduler screen:
Task type: Select End Of Day Email Unsent Communication from the dropdown list.
Frequency: Select Daily from the dropdown list.
Click Confirm.
In the next screen:
Next run time: This defaults to the current time. You should change this to be a time overnight, e.g. today's date and 11:55pm.
Click Save and close.

This task emails all Statements as an attachment to each Receivable Account that has had a Statement created.
NOTE: There are two tasks you could select from to use.
End Of Day Email All Unsent Account Statements will send out only statements.
End Of Day Email Unsent Communication will send out any communications that have been created during the day that should be sent out from your Lentune system.
---
Send a Statement to one Receivable Account
To send a Statement to one Receivable Account:
Go to Receivables > Receivable Accounts.
Select the Receivable Accounts you want.
Click the Statements tab.
Click the send iconbeside the statement that you wish to send out.

This then brings up the New Email screen.
Select (or add) the Contact person you wish to send the Statement to.
The Subject and Body text for the email are taken from the Receivables Manager detail screen.
Tick the boxes to determine if you wish to attach the Statement as a PDF or XLXS file.
Click Send.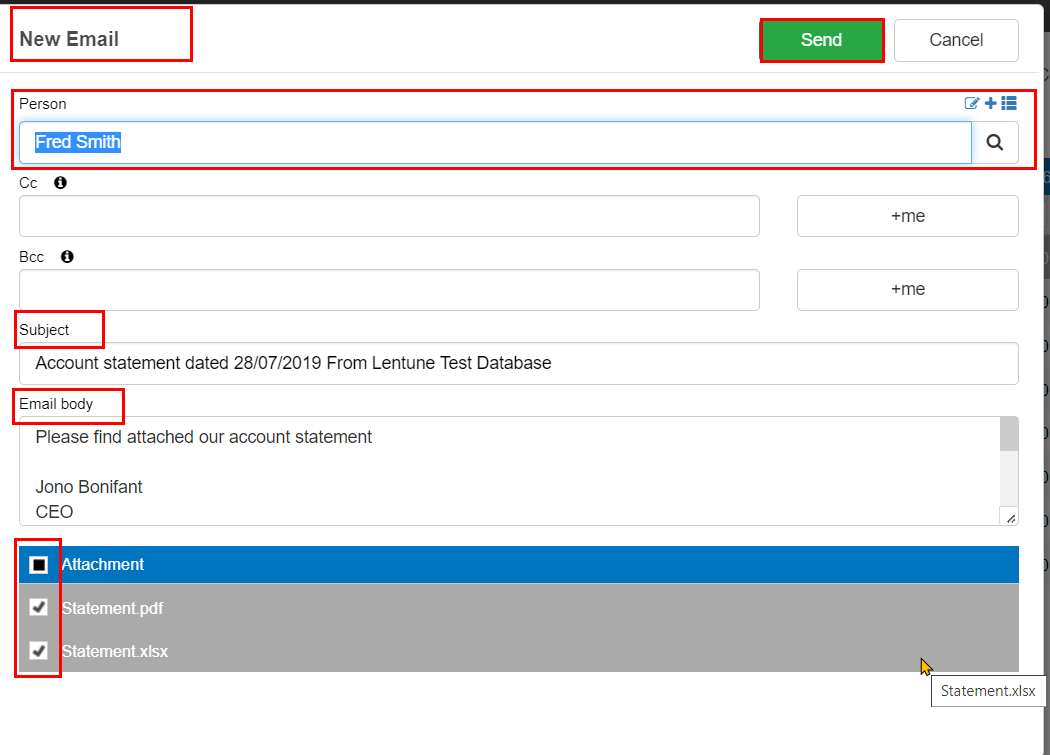 This will email the Statement as an attachment.
---
Was this helpful? If you require further assistance, or would like to contact us about this article, please email us at support@lentune.com.
Thank you. Your feedback is appreciated.
Last updated: 10 January 2023