Delivery Address for a Sales Order
Adding a delivery address to a Sales Order.
---
Introduction
When adding a Sales Order, you can select or add the delivery address to be printed on the Packing Slip.
---
Add a Delivery Address
Go to Sales > Sales Orders.
Create your Sales Order and add the stock items. Refer to Create a Sales Order for more details.
When you have added your items for the Sales Order:
Go to the Details tab > Overrides section.
Delivery address: Here you can select an existing delivery address from the dropdown list, or add a new address by clicking the plus icon above the field.

In the Create New Receivable Account Delivery Address screen:
Code: Add a Code for this address.
Delivery Address: Add the address details.
Click Save & close.

This new address will now show in the Delivery address field:

Now when you print the Packing Slip, this address will be used.
---
Preview Packing Slip
To preview your Packing Slip with the delivery address:
Go to the Packing Slips tab.
Click the Print Preview icon on the right of this line to preview the Packing Slip onscreen, click View Consolidated Packing Slip to preview a consolidated Packing Slip.

You will see the delivery address that you have selected.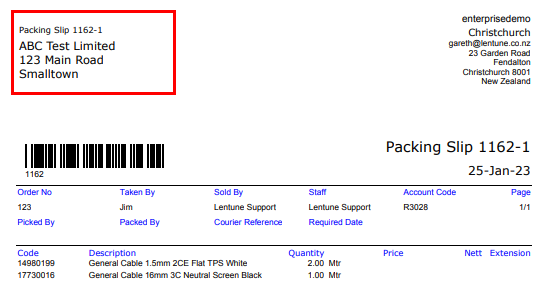 ---
Was this helpful? If you need more information, or would like to contact us about this article, please email us at support@lentune.com.
Thank you. We value your feedback.
Last updated: 13 February 2023