How to manage exchange rate differences for ERP Payables.
How exchange rate differences occur
---
Introduction
When you have overseas Suppliers or Customers who charge or pay you in a different currency to yours, you need to account for any differences in rates of exchange when converting the transactions to your own currency in your Lentune system.
---
How exchange rate differences occur
When you have overseas Suppliers, you will be paying for goods in that foreign currency. Your overseas Supplier record will be set up for their currency, so all transactions are recorded in that currency and then converted to your local currency.
There will usually be a time delay between the invoice coming in to your system and the payment going out. That time difference will mean that there is usually a difference in the rate of exchange between the two transactions, assuming you pay from your local currency bank account.
Your posting lines in your foreign currency will balance, but the lines for the local currency will not, due to the difference in exchange rates arising from the different days that the transactions are processed.
In that case, we need to create a rate of exchange adjustment so that the invoice and the payment will balance to zero in your local currency.
---
How to manage exchange rate variations
Where you have foreign currency transactions, you should manually allocate the payment to the invoice/s being paid. This is because the amounts in your local currency, e.g. NZD amounts, will not balance to zero.
Where you are using different currencies, you need to create the exchange rate adjustment. This should be done once a month as part of the month end processes, or this may be done more frequently if you wish.
The system will check all foreign currency transactions for the month and create a journal entry, posting between the Profit and Loss account for Currency revaluation difference and the General Ledger account for Payable control account.
To do this:
Go to Payables > Monthly Tasks > Post revaluation difference.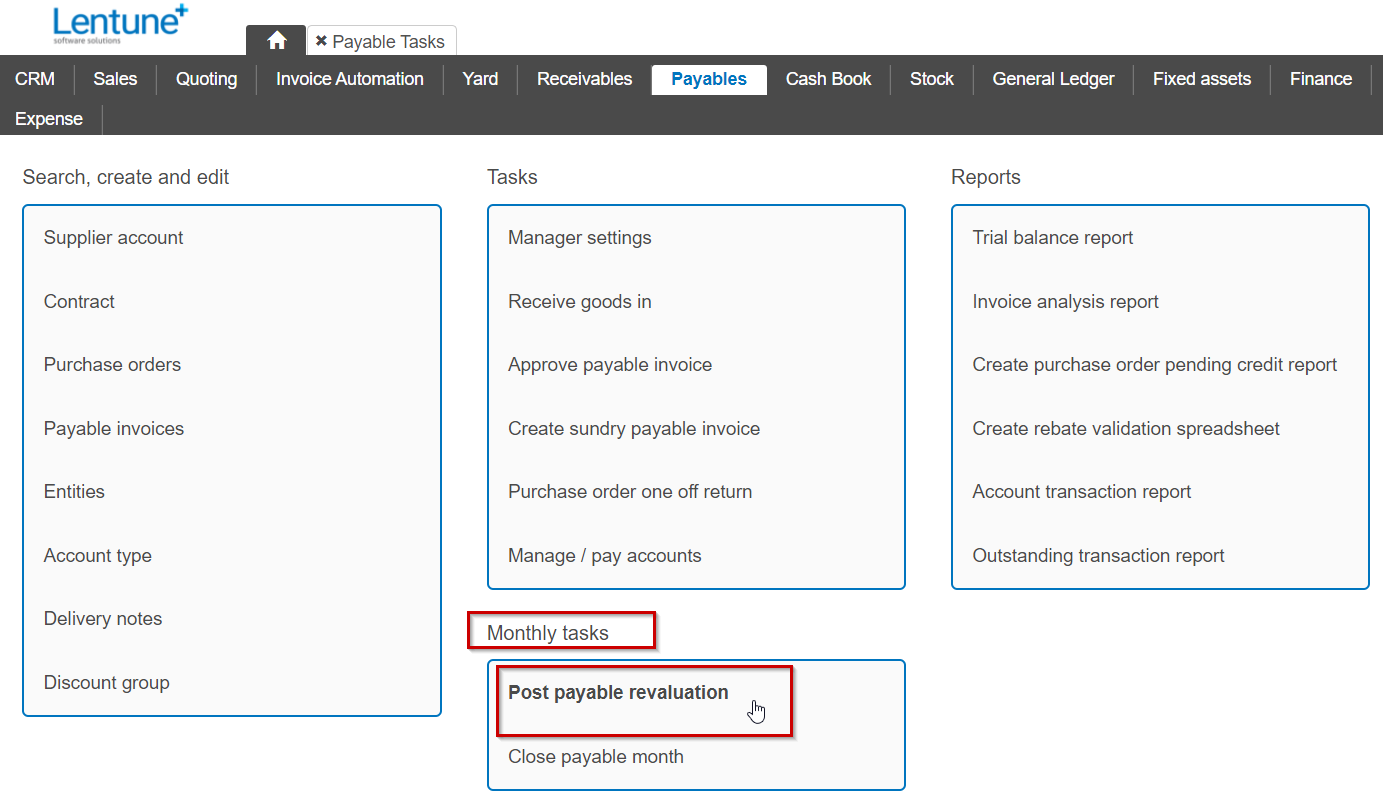 The month end date should default to the correct month end.
Select your General ledger account for currency revaluation.
Click Save defaults to save this for future postings.
Click Post revaluation.
A journal entry be will created.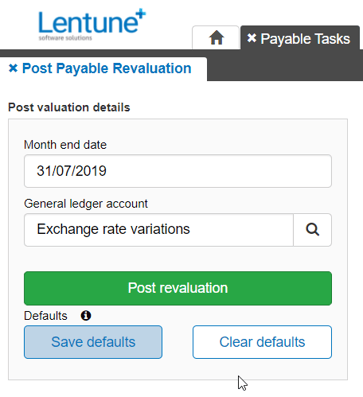 ---
Was this helpful? If you require further assistance, or would like to contact us about this article, please email us at support@lentune.com.
Thank you. Your feedback is appreciated.
Last updated: 25 May 2022.