Phone number on your Receivable Invoices
Editing the phone number to appear on your Receivable invoices.
---
Introduction
On the invoices that are sent out to your Receivable Accounts customers, your Branch phone number will be printed. The phone number is stored on the Contact Points tab for each Branch.
---
Edit Phone number to print on Receivale Invoices
If you need to edit that phone number, you can do so for the Branch.
Go to Settings > Branches.
Select the Branch you wish to edit.
Click the Contact Points tab.
In the Existing contact points section on the left of the screen, the contacts and phone numbers are displayed.





Double click the line item that you wish to edit to bring up the Edit Contact Point window.
Edit the Phone number.
Click Save & Close.

Refresh the page.
Go to the Details tab.
Now you will see the updated phone number on the Details screen.
This is the phone number that appears on your invoices.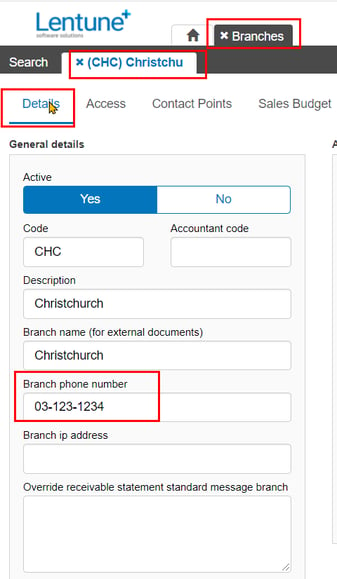 ---
Was this helpful? If you require further assistance, or would like to contact us about this article, please email us at support@lentune.com.
Thank you. Your feedback is appreciated.
Last updated: 12 May 2022.