When you have item/s on a Sales Order that your customer has not yet taken delivery of (but you want to take out of stock), you can put the item/s On Hold until you are ready to invoice them.
---
Introduction
In a Sales Order, you may have some items that they customer has ordered for a project, that you have ordered in for them. However, the customer does not want to collect those items until they need them for their project, so they do not want to be invoiced for them yet.
You may put such items On Hold until you wish to invoice them to your customer without having to hold to entire order.
A flag in the Receivables Manager must be set to allow this feature.
---
Receivables Manager Setting
To enable this feature, you need to set a field in the Receivables Manager.
Go to Settings > Receivable manager.
In the
Control Settings
section
:
Check Allow sales order line on hold.
Click Save.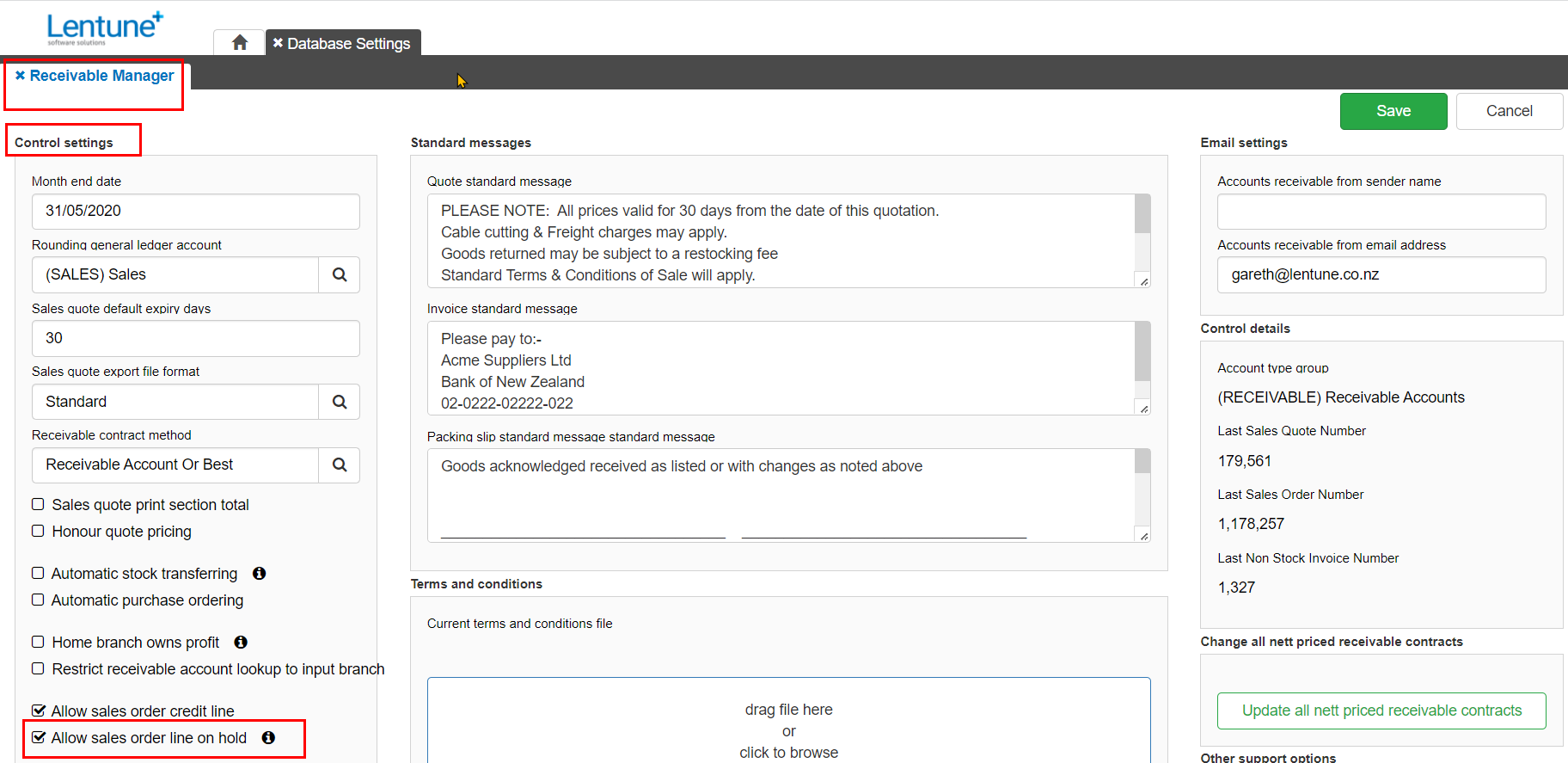 ---
To put an item On Hold
When creating or editing a Sales order, you can put a line on hold.
Go to Sales > Sales Orders, or Sales Orders from the rignt side menu.
Click New Sales Order and add lines, or select a Sales order to edit
In the Sales Order, select the line item that you wish to put On Hold, and double click that line to open it.
This will take you to the Edit Sales Order screen for this line.

There is a checkbox called On Hold in the top section of the screen.
Check this box and then click Save and Close.

This takes you back to the Sales Order screen. You can now see that the line you selected is marked as On Hold with a check showing in the Hold column.

Click Save and Close to create the Packing Slip.
Next, a Packing Slip will be created for the items that are not on hold, and a separate Packing Slip will be created for items that are on hold, with this Packing Slip being marked in red as On Hold.
Alternatively, if this item is already on a packing slip that hasn't been invoice, this packing slip will be placed On Hold.
When the next invoice routine occurs, any Packing Slips that are marked as On Hold will not be invoiced.
---
To find and take items off hold
To find Sales Orders that have Packing Slips that are On Hold:
On the Sales Order screen, any Sales Order that has items on hold will display in the Packing Slip Status column as Held Packing Slips.

When you wish to take items off hold to be able to invoice them:
To remove the On Hold status for a Packing Slip, go to the Sales Order screen and select the Sales Order that you want.
Go to the Sales heading of the Sales Order, where you can see the Hold flag for the lines that have been put On Hold.

You can untick the Hold field for a particular line;
OR:
Double click the required item line to open it.
This takes you back to the Edit Sales Order Line screen, where you can now remove the check in the On Hold box.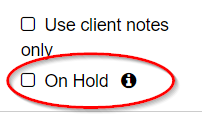 This will take you back to the front screen the On Hold flag has now been removed.

The associated Packing Slip/s will now be taken off hold.
---
Another way to view Packing Slips On Hold
You may also view which Packing Slips are On Hold in the Packing Slip screen of the Sales Order.
Go to the Sales Order for the customer, and click on the Packing Slip heading to see all Packing Slips for this Sales Order.

The column on the far left shows the Status for each Packing Slip.
Any Packing Slips that are On Hold will show in the Status column on the left of the screen as On Hold.
---
Was this helpful? If you require further assistance, or would like to contact us about this article, please email us at support@lentune.com.
Thank you. Your feedback is appreciated.
Last updated: 13 April 2022.