Receivables All Branch Monthly Summary Report
A summary of all Receivables for all branches for the month.
---
Introduction
This report gives a summarised view per Branch of Budgets, Actuals, Gross Profit, Variance and Projected figures of your Receivables for the month.
You will need the Security Role of Receivable Company Month Summary Report.
---
All Branch Monthly Summary Report
Go to Receivables > Performance Reports > All Branch Monthly Summary Report.
Month ending date: Select the month ending date.
Click View report or Export report.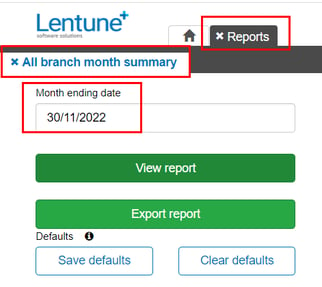 The report shows a line for each branch, and columns for Budgets, Actual to date, Cost to date, Gross Profit to date, Margin % to date, Actual Variance, Projected Actual, Projected Cost, Projected Gross Profit and Projected Variance.

---
Was this helpful? If you require further assistance, or would like to contact us about this article, please email us at support@lentune.com.
Thank you. We value your feedback.
Last updated 22 November 2022