Stock Recommended Purchase Quantity and Calculating Contract Buy Price.
---
Introduction
The Recommended Purchase Quantity for a Stock Item is found on the Pricing tab. This is used in conjunction with the Discount on the Payable Contracts for that Stock item to calculate the Contract Buy Price, i.e. the expected replacement cost of that Stock item.
---
Recommended Purchase Quantity
To set up a Recommended Purchase Quantity:
Go to Stock > Stock Details.
Select and open a Stock Item.
Go to the Pricing tab.
In the Supplier / buying details section:
Recommended purchase quantity: Enter the quantity that you would normally buy. In our example, this is 10.
Click Save.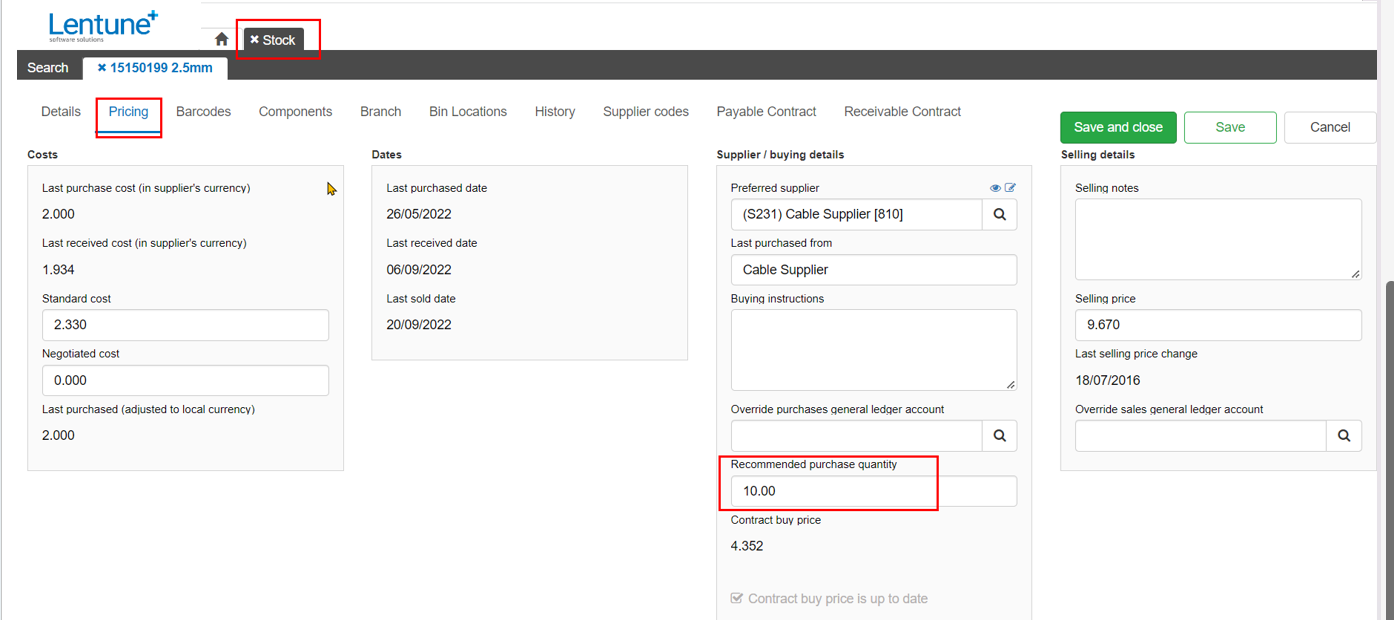 ---
Contract Buy Price
The expected Contract Buy Price, i.e. our expected replacement cost for this Stock item, is calculated from the Discount % on the Payable contract. If you have more than one Payable Contract for the Stock item, then we use the Payable contract where the Minimum quantity is equal to or less than the Recommended purchase quantity.
The Minimum quantity and Discount % are found on the Payable Contract:
Payable Contract tab > Contract restrictions section. In our example, the Minimum quantity of 10 has a Discount % of 55%.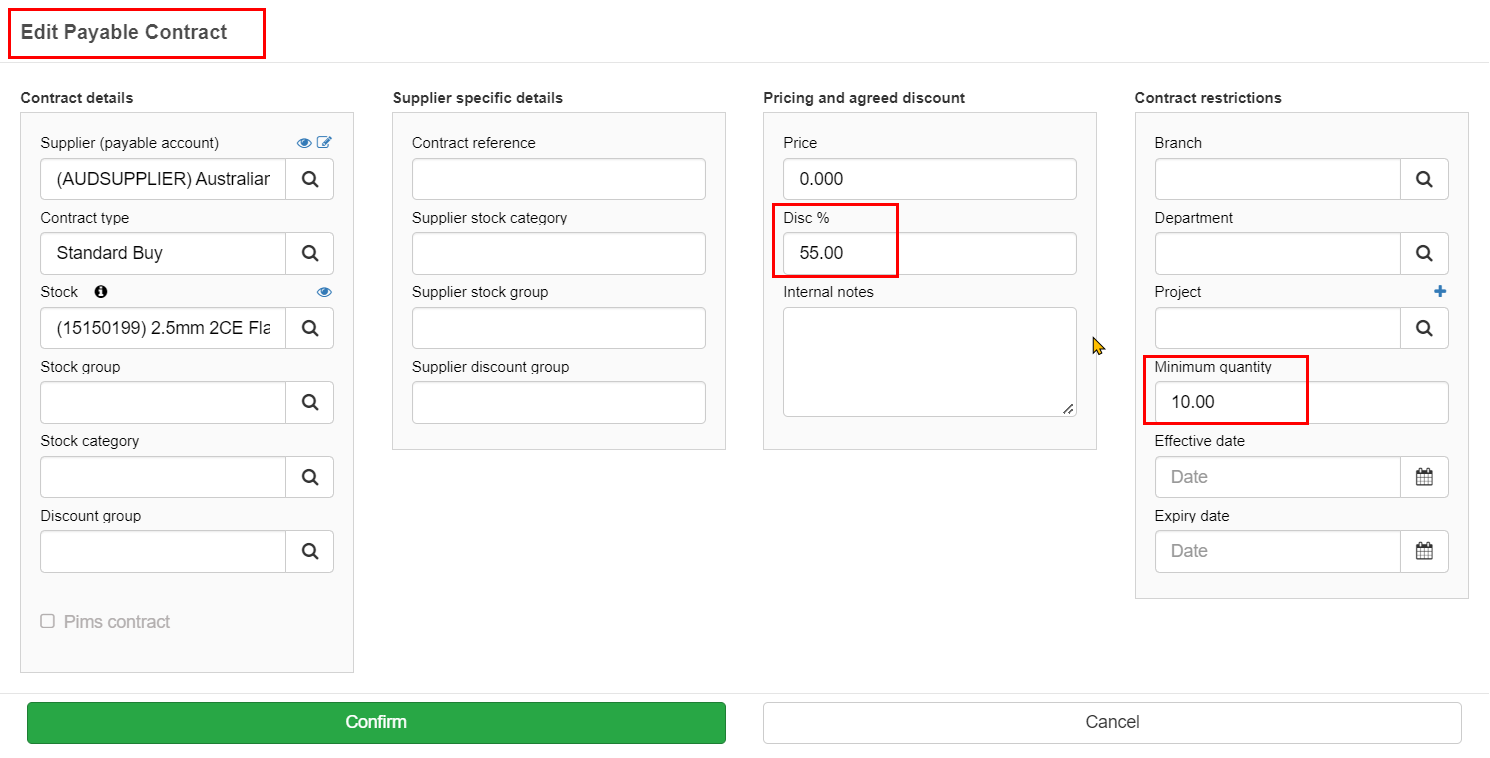 We expect that the Contract buy price will be the price we would normally pay when we buy replacement stock.
Going back to the Pricing tab for this Stock item, we can see the Contract buy price is $4.352.
This is calculated from the Selling Price ($9.67) less the Discount % (55%), where the Discount % is taken from the Payable contract that has a Minimum Quantity of 10, i.e. equal to or lower than the Recommended purchase quantity.
This gives us our best estimated replacement cost.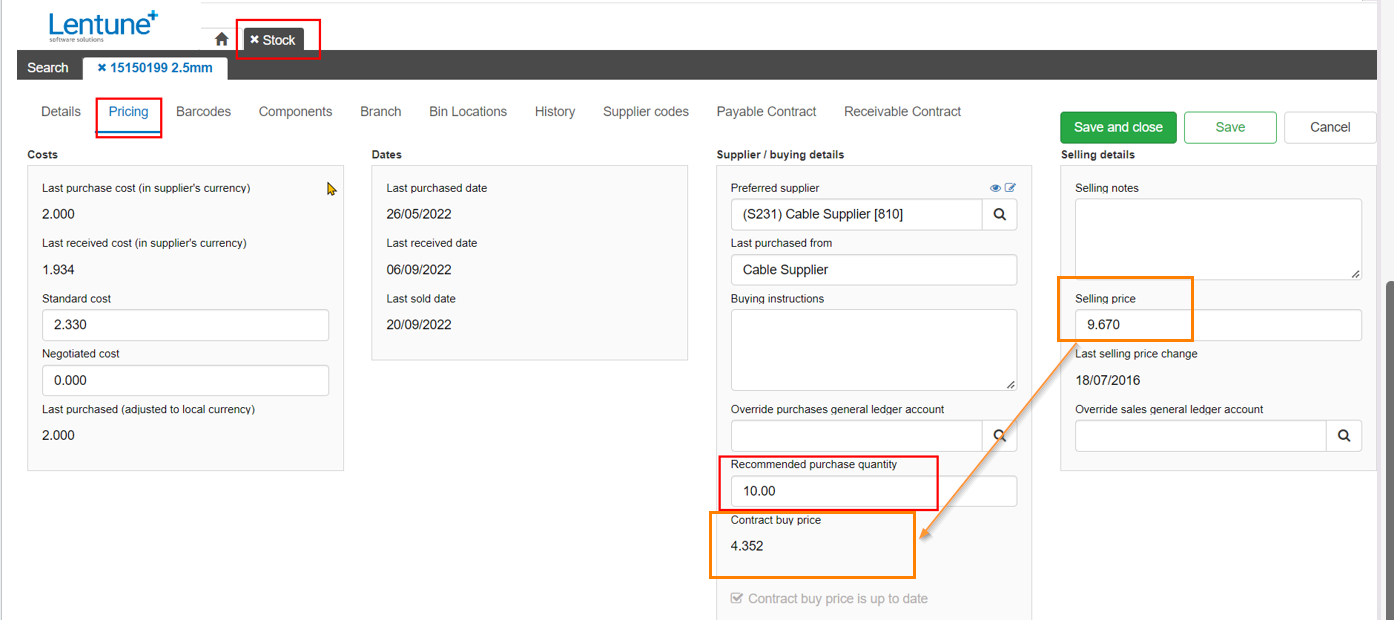 ---
Updating the Recommended purchase quantity
If you change the Recommended purchase quantity, and you have another Payable Contract with a different minimum quantity, this will recalculate the Contract buy price when the Scheduled task End Of Day Check Stock Contract Buy Price runs at the end of the day. However, if you wish to update this right away, you can force this recalculation manually.
Go to Settings > Stock Manager.
In the Control Settings section:
Click Check Stock Contract Buy Price.
Click Save and close.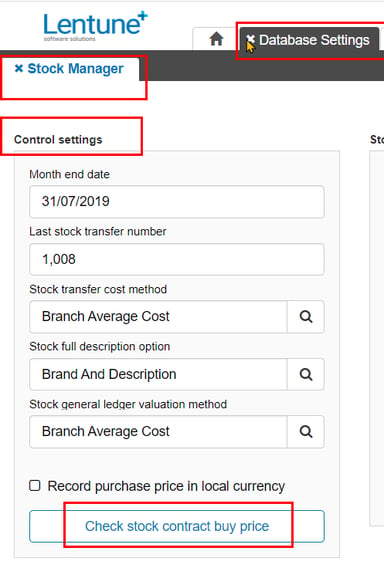 ---
Was this helpful? If you require further assistance, or would like to contact us about this article, please email us at support@lentune.com.
Thank you. We really do appreciate your feedback.
Last updated: 28 September 2022