General Setup & Maintenance
Access Lentune Knowledge Base from the Sidebar Menu Help icon
You can access HELP from the Side Bar Menu.
---
Introduction
Lentune has a Knowledge Base that helps you learn how something works in the area you are looking for. If you've arrived at this page from a link someone has sent you, you can access the full Knowledge Base here.
You can also click on the Help icon on your Side bar menu

from within Lentune.
NOTE: If you have access to many modules, you may see a More icon instead of the Help icon.
Click the More icon to bring up the More Actions list.

Then:
Click the Help icon to access the Knowledge Base.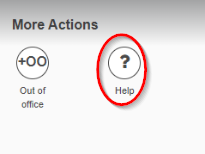 ---
Search for your topic
On the Knowledge Base web page, you can search for keywords in the search bar. This will show you the topics that include these words so you can find an article to help you.

---
If you can't find something you need in the Knowledge base, please
let us know
. We value your feedback as we constantly look to refine and improve so we can help you get the most from Lentune and make it as easy as possible for you. Thank you.
---
Was this helpful? If you need more information or would like to contact us about this article, please email us at support@lentune.com.
Thank you. We value your feedback.
Last updated: 29 March 2023