Add a New Receivable Account / Customer and set up default fields.
---
Introduction
In the Receivables module, you can manage the sales and invoices to your customers, track their payments and manage overdue balances. There are several standard monthlhy reports and performance reports available.
You can add a record for a new customer that you can then use for any sales, or for a new Payment Claim. There are many fields where you can set up the requirements for the individual customer, e.g. do they need a packing slip, what are their payment terms, email addresses and contact people. Setting these criteria make creating quotes and orders more efficient as a lot of fields in these screens will then be pre-filled from the defaults for the customer.
There are a lot of tabs in this screen, so it may seem a little daunting at first. However, a lot of the screens do not need to be changed once set up, and others may be used by different department such as your accounts team.
---
Add a Receivable Account
To add a new Receivable Account:
Go to Receivables > Receivable Accounts.
Click New Receivable account.

In the Create Receivable Account screen:
In the Accounts section:
Receivable Account Type: Enter the Receivable Account Type, e.g. Debtors.
Branch: Enter the Branch for this Receivable Account.
Company: Enter your Company that this Receivable Account will be associated with.
In the Entity section:
Entity Code:

Enter the Code for this Receivable Account.

Entity Description: Enter the name for this Receivable Account.
Email addresses: Enter the email addresses for invoices and statements to be sent to.
In the Entity Postal address section:
Enter the address details for this Receivable Account.
Click Confirm.

This takes you to the Details screen, where you can add or edit any further details.
---
Details screen
This screen has sections for Account details, Associations, Entity and Account History.
Much of this data has been brought through from the first screen where you set up the record. If you need to change the Entity details, you can do that here by clicking Edit Entity.
The Account History section shows summary information about the account transactions.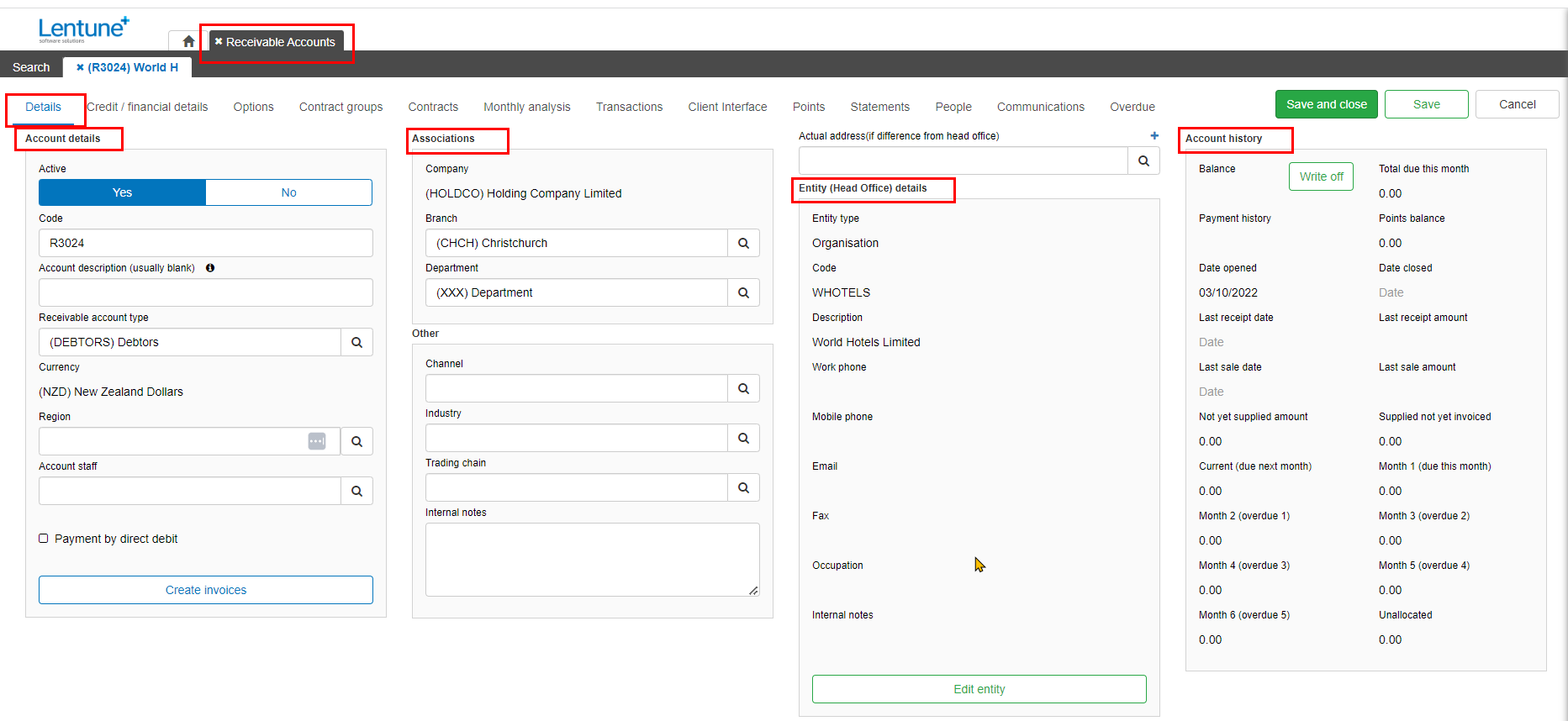 ---
Credit / financial details
In this screen you can determine Payment terms for this customer, e.g. 20 days, 7 days, etc.
You can also establish credit limits and a general discount %.

---
Options
In the Options screen, you can set the requirements for Accounts, Sales quotes, Sales Orders, Packing slips, Invoicing and Statements.
Once you have set these options, several fields can be used to pre-fill fields on sales quotes and orders.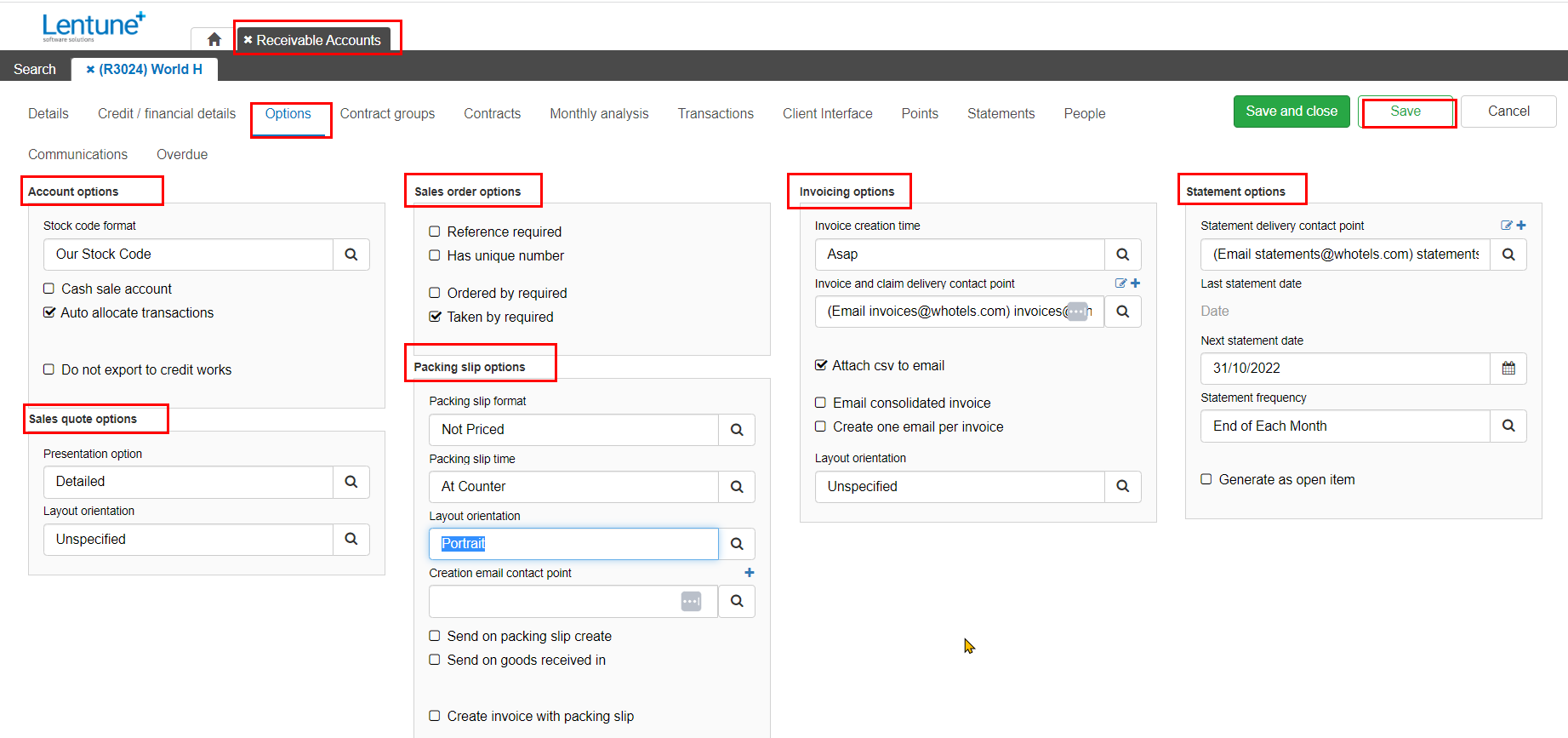 ---
Contracts and Contract Groups
You can set up Receivable Contracts for your customer, to establish the pricing agreements with this customer. Please refer to Creating and Managing Receivable Contracts and Receivable Contracts: A detailed view to read about Receivable Contracts.
---
Monthly Analysis, Transactions and Overdue
These screens show you details of the transactions by month and the history of all transactionsfor your customer.
In the Overdue tab, you can manage the overdue reminder letters that you might want to send to this customer. Read about Sending Overdue Letters.
---
Client Interface
In this screen you can select the formats for exporting a stock file and sales quotes. There are also sections where you may set up interface details for your accounting or job cost systems.
---
Points
Lentune has a customer loyalty points system that can be set up for any customer. You can read about it here: Loyalty points for your Receivable accounts.
---
Statements
On the Statements tab, you can send or reprint any past statement for your customer.
---
People and Communications
In the People tab, you can add the contact people who are associated with this Receivable account.
In the Communications tab, you can view a history of all outbound communications that have been emailed to this customer.
---
Was this helpful? If you require further assistance, or would like to contact us about this article, please email us at support@lentune.com.
Thank you. We really do appreciate your feedback.