Add a new Receivable Account for your new Head Contract
If your Receivable Account does not yet exist in your database, you can easily add their details while you are adding the new Head Contract.
After you have clicked Add new Head Contract, you are taken to the Head Contract screen to add the details for this Head Contract. to add your new Receivable Account:
Click the Add icon above the Client (receivable account) field.
In the
Entity
section:
Add the Code and Description.
Add the Email Addresses

for

Invoice and Statements.

Send invoice to Xero: If your system integrates to Xero, check this field.
In the
Entity Address Details
Section:
Complete the

Address Fields.
Click Confirm to save your details and return to the previous screen to continue adding your Head Contract details.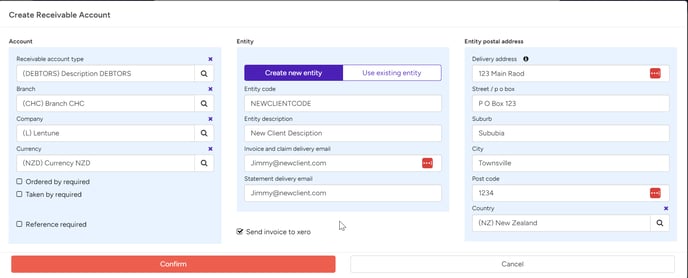 ---
Need more help? We're here! We hope our article was helpful! If you need more info or want to connect, drop us an email at support@lentune.com.
Thank you. We love to hear from you!
Last updated: 27 September 2023