Streamline your expense claims with the Lentune Mobile App. Here's a quick guide to help you get started.
Entering Expenses via the Lentune Mobile App
Open the Mobile App

Access the Lentune Mobile App on your smartphone.
Log in with your company credentials.

Select Expense Claims

After logging in, tap Expense Claims.

Create a New Expense Claim

Click NEW on the top right corner of the screen.
You can either take a photo of your expense receipt or select an existing photo from your camera roll.

Enter Expense Details

Date: The current date is auto-filled but can be edited if necessary.
Description: Describe the expense.
Amount & Tax: Enter the expense amount (tax defaults to your preset rate).
Branch/Region: Defaults to your branch.
Project/Cost Code: Assign these if required.
Expense Card: Choose your card.
Expense Type: Enter the General Ledger code.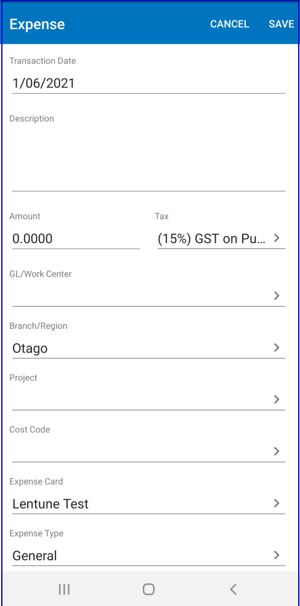 Save Your Entry

Press SAVE on the top right to return to the Expense Screen.

View Expenses

Expenses are categorized as:

Needs more detail: Incomplete expenses, requiring additional details for approval.
Awaiting statement: Credit card expenses awaiting approval.
Ready to be submitted: Expenses for reimbursement, all mandatory fields completed.

Filter Expenses

Use the Filter option on the bottom left to sort expenses by status, date range, Expense Card, or keywords.

Submit Expenses

To submit expenses for approval, click Submit on the bottom right.
Select the expenses for submission and click Submit again.
Submitted expenses will appear as Processed after approval by the administrator.
Efficiently managing your expenses is a breeze with the Lentune Mobile App. Simplify the process, from capturing receipts to submission and approval. Stay organized, save time, and streamline your expense claims effortlessly.
---
Need more help? We're here! We hope our article was helpful! If you need more info or want to connect, drop us an email at support@lentune.com.
Thank you. We love to hear from you!
---
Last updated: 18 September 2023