Integrating Lentune Invoice Automation to Fergus Job Management system.
---
Introduction
If your customers are using Fergus for job management, Lentune can be linked to their account so their payable invoices are sent automatically across. This will eliminate the need for invoices to be manually re-entered to the Fergus system, or to download the invoice file and upload it.
---
Fergus user step
Please refer to your Fergus support for full instructions. Here is a summary of the steps your customer using Fergus should complete:
This feature is called invoicing email ingestion.
In Fergus, go to Setting > Integration Centre.
In the section of standard integration, they will see your wholesaler logo.
Click on your logo. This opens up a landing page.
In the Configuration tab, they will see the toggle to turn on this feature, and once turned on, a unique email address will automatically be generated.
They now need to advise you what this new email address is, so you can send their invoices to that email address.
To do this:
Click the send email button.
This populates the email body with the information on this new email address.
Now you can proceed to the Lentune steps below.
---
Lentune steps
You will receive an email from Fergus with the request from anyone who wants the integration set up and has completed the above steps in their Fergus system. This email will advise the email address to which we should send the invoices from our Lentune system to their Fergus system.
In your Lentune system:
Go to Receivables > Receivable Accounts and select the Receivable Account.
Go to the Options heading to the section Invoicing Options.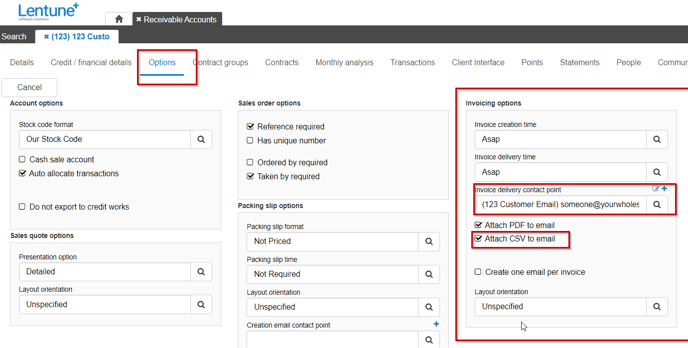 In the Invoice delivery contact point, click the Plus icon to add the details for the new email address as provided by your supplier.
In the
Edit Contact Point
screen:

Contact point type: Select Email.
Description: You can name the contact point or relevant name, such as Fergus and Accounts.
Email address: Enter both:

the email address given to you by Fergus, and
the normal email address where the customer usually received their invoice.

These two addresses will need to be separated by a ; (semicolon).
The two email addresses in this field must be separated by a semicolon ; .
This takes you back to the Invoicing Options screen:
Check the field for

Attach CSV to email.
Next:
Go back to Receivables > Receivable Accounts for this Receivable account.
In the Client Interface tab, go to the Client Stock section.
In the Export file format field, select Fergus, or CSV Standard if you do not have a Fergus option.
Click Save and Close.

Repeat the Lentune steps for each Supplier (Receivable account) that this will apply to.
TIP: Ensure that you enter the correct email address for each Receivable account.
---
Was this helpful? If you require further assistance, or would like to contact us about this article, please email us at support@lentune.com.
Thank you. We value your feedback.
Last updated: 12 January 2023