Importing Multiple Access Personas.
---
Introduction
When assigning Access Personas to Users, it is possible to import data to include several different Access Personas for several Users, assigning multiple Access Personas with access to specific Companies, Branches and Departments.
Access for multiple combinations of Access Persona / Company / Branch / Department can be assigned to Users. This can be done efficiently by importing a spreadsheet of the required assignments.
You are able to import new details for existing Users who already have some Access Personas without overwriting the existing details.
Refer to Access Personas to read more about how they work.
---
Import Access Personas
To import a spreadsheet of Access Persona details for Users:
The spreadsheet should be an Excel file formatted with the following column headings in this order:
StaffCode| CompanyCode | BranchCode | DepartmentCode | ProjectCode | AccessPersonaCode | Error.
NOTE: These are the codes for each of the above categories.
To perform the import:
Go to Administration > Access Personas.
Click More.
Click Import persona grant.

In the Upload Document screen:
Drag your file to the import box, or browse for your file.
Click Upload.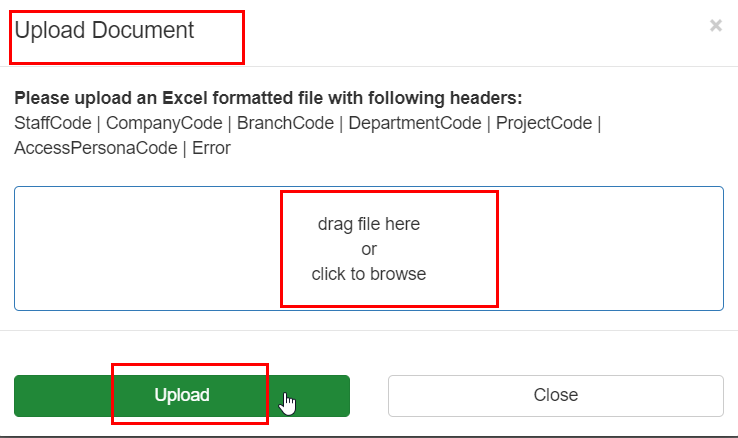 ---
Was this helpful? If you need more information, or would like to contact us about this article, please email us at support@lentune.com.
Thank you. We value your feedback.
Last updated: 18 January 2023