Here's a wrap up of what we've been working on lately.
Lentune Automation
We have given our Projects Module a significant upgrade, allowing for more visibility on how your project is running.
You can now search (and sometimes export) all the below data directly from the Project screen.
Cost Codes and Budgets
Purchase Orders
Committed Costs
Variations
Invoices
Adjustments
Staff Expenses
Timesheets
Yard bookings
2. A hyperlink has been added to the Project description that will take you directly to the project.
3. We have added a new Last Invoiced Transaction Date to the Payable account export, allowing for easy cleansing of unwanted accounts.
4. A Cost code can now be made compulsory on a Purchase Order. Click here to see how.
5. To allow for multiple system integrations to our Timesheet module, we have added the ability to have up to 5 different reference codes for a user.
---
Yard is coming to our Lentune App!
Yard Bookings will be added to the Lentune mobile App this week.
If you're struggling to keep track of plant, equipment or assets from project to project, our new Yard module might be able to help you out!
With Yard, you can log all your equipment in one place, rent each asset to internal projects and attribute costs directly to each project. Yard also manages equipment availability, makes equipment bookings, catalogues your fixed assets and automatically journals depreciation rates.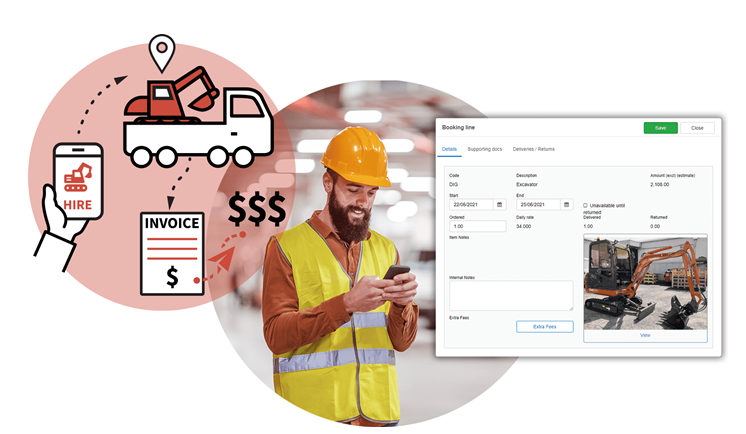 Contact the team today to learn more. We can take you through a demo of Yard and see if it's right for your business.
---
Submit an idea
Do you have an idea for a new feature or improvement in Lentune? We'd be happy to hear from you.
It would be great if you could leave us a 5-star review on Google. We'd really appreciate it as it makes it easier for companies to find us when they're looking to bring automation to their business.
Thanks for reading. If you have any questions about these updates, please reach out to us.
Ngā mihi,
Lentune Support Team
03 351 9110