Manually add an Invoice to your Invoice Automation
You can import an invoice file that has not arrived via your email system.
Introduction
If you have Sundry Invoices that have not come in to Lentune via your normal email import, you can manually add them into your Invoice Automation system so they are able to be checked and processed.
---
Manually Add an Invoice
You can manually import an invoice from a file that is in one of these formats: .PDF, .docx, .xlsx, .csv. To do this:
Go to Invoice Automation > Check.
Click Actions.
Select Manually add invoice.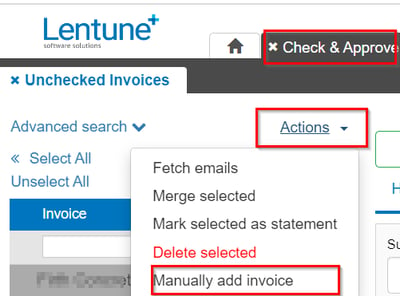 In the Create invoice window:
Supplier: Select the Supplier for this invoice from the dropdown list.
Drag your file to the box or browse to select it.
Click Confirm.

The invoice will be imported and you can now check and process it as usual.

---
Need more help? We're here!
We hope our article was helpful! If you need more info or want to connect, drop us an email at support@lentune.com.
Thank you. We love to hear from you!
Last updated: 14 August 2023