You can determine the Receivable Account for Yard Bookings for each of your different Companies.
---
Introduction
Where you have several Companies in your Lentune system, you can set the Receivable Account for Yard Bookings to a separate Receivable Account record for each Company. This enables you to more easily locate and charge out Yard items for the Projects relating to the correct Company.
You will need to assign the Security Role of Ability to set the receivable account on a yard booking to Users who need to use this feature.
Please refer to Assign Security Roles to Users to read how to assign a new Security Role to a User.
---
Receivable Account for a Company
To assign a default Receivable Account to a Company for Yard Bookings, you will first need to have a Receivable Account that you wish to assign to the Company. If you do not already have one, you can set this up in Receivables > Receivable Accounts > New Receivable Account. If you cannot see a Receivable menu it may need to be turned on in the database manager. If you need assistance with this please contact support@lentune.com for assistance.
Once you have assigned the Receivable to the Company, this allows you to charge the Yard Bookings to this Receivable Account.
To assign the Receivable Account to the Company:
Go to Settings > Companies, or Administration > Companies.
Default receivable account for yard: Select the default Receivable Account you wish to assign to this Company for billing Yard Bookings belonging to any Projects for this Company.
Click Save and Close.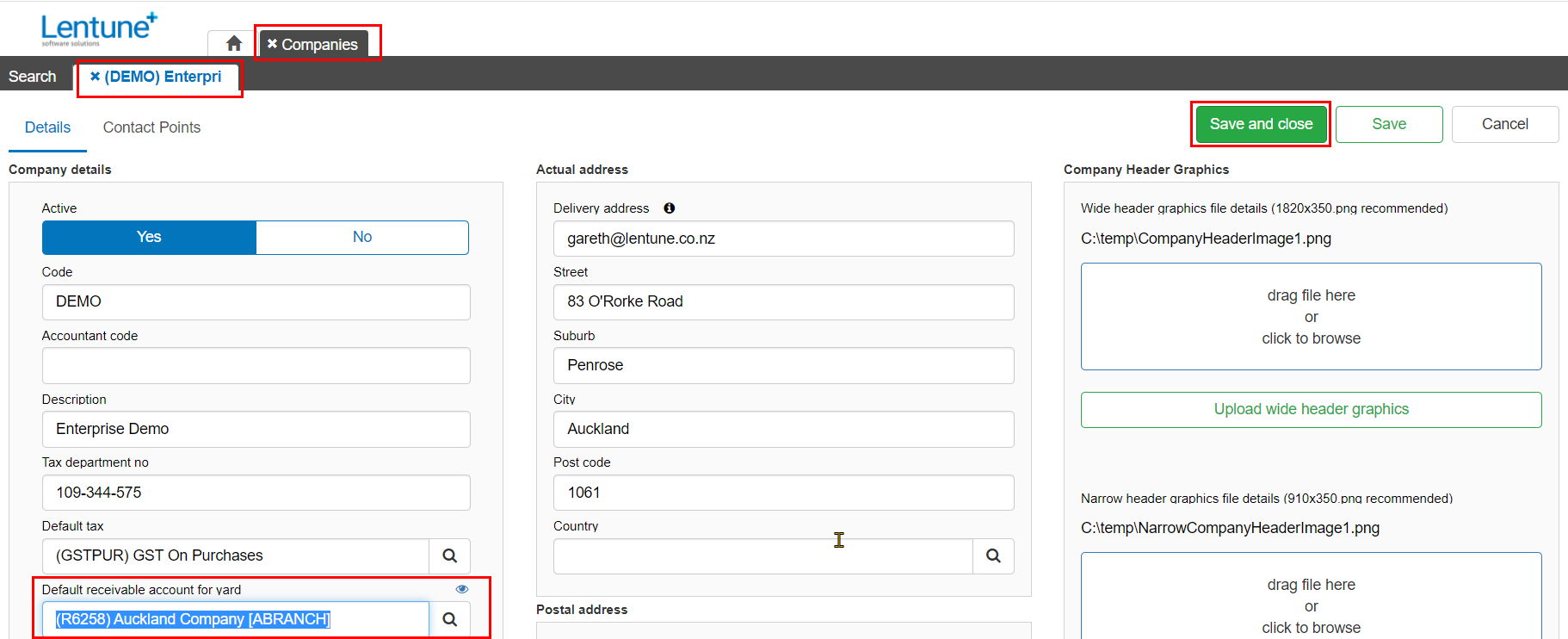 Now, billing for Yard Bookings for this Company will be charged to that Receivable Account.
---
Receivable Account editable in a Yard Booking
When you have set a Receivable Account for a Company, then Yard Bookings will show that Receivable Account in the Bookings > Details screen.
This field is editable if required.
Go to Yard > Bookings.
Select your Booking.
Click the Details tab.
Client (Receivable account) will show the Receivable Account attached to the relevant Company for this Project. It is editable here if required.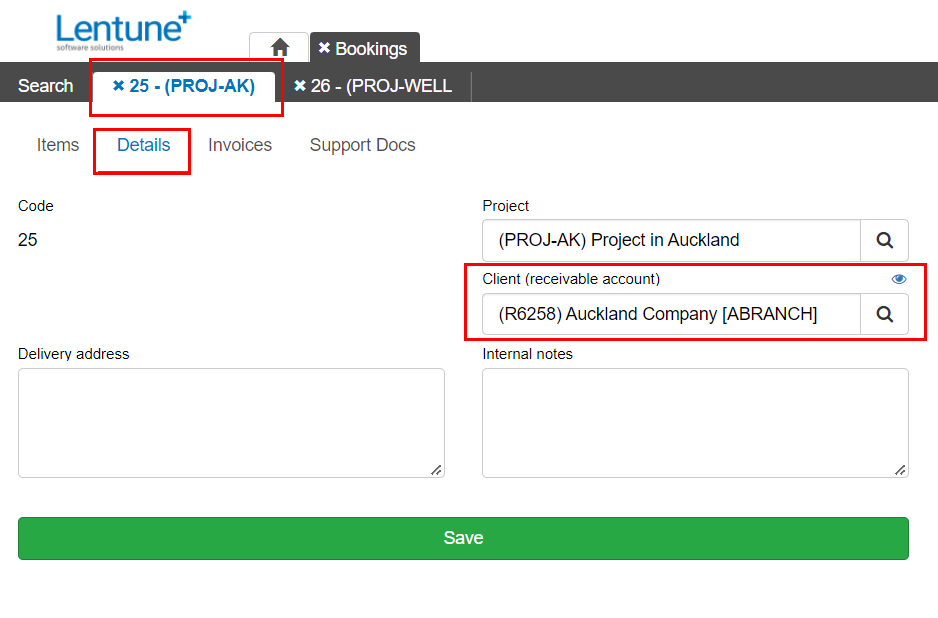 ---
Default if no Receivable Account set for a Company
If there is NOT a specific Default Receivable Account for yard assigned to a Company, then the Receivable Account for the Yard Manager is used.
This is found in Yard > Manager in the field Default receivable account for billing.
Go to Yard > Manager.
Default Receivable Account for billing: This is the Receivable Account that will be used for Yard Bookings in any Project where there is no Receivable Account for yard set in the Company that the Project belongs to.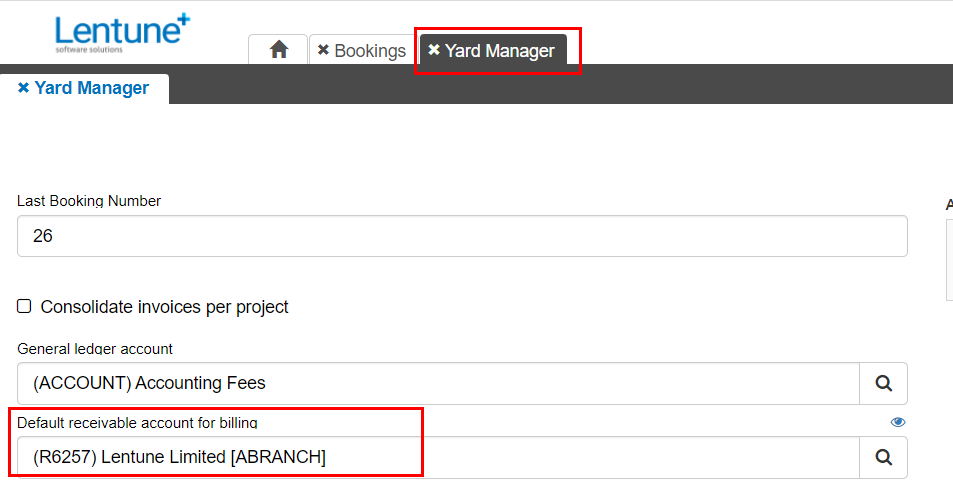 This will appear in the Booking > Details screen:
It is editable where the required Security Role has been assigned to the User.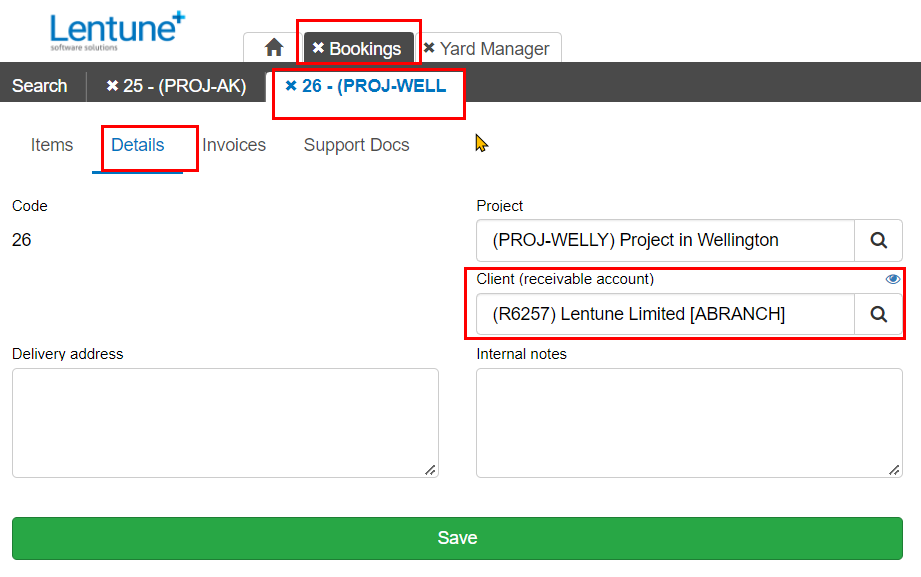 TIP: If the Client Receivable Account field does not appear as editable, check that your User has the correct Security Role assigned.
---
Was this helpful? If you need more information, or would like to contact us about this article, please email us at support@lentune.com.
Thank you. We value your feedback.
Last updated: 14 February 2023