Approving Time Sheets.
---
Introduction
When Time sheet Users have submitted their Time sheets, these are ready to be approved by the Time sheet manager / approver.
You can elect to have single approval or dual approval for Timesheets. This is set in the User Group, giving flexibility for different categories of staff.
---
Approve Time Sheets
Go to Timesheets > 1st Approve.
All Time sheets that have submitted entries will be displayed in pay period order.
Note: If there is at least one entry for a User where the Status is Submitted, their name will appear in the approval queue.
If all entries for the User have a Status of Draft, their entries will not yet appear.
You can view draft entries by going to Time sheets > Time sheets. Here you can select the Project, Time sheet user, and Pay period and click Search.
This will display Time sheet entries that have a Status of Submitted or Draft.
Branch: Select a Branch or leave blank for all Branches.
Project: Select a Project or leave blank for all Projects.
Period beginning / ending: You can select a time period for entries to be displayed.
Time sheet user group: Select a Time Sheet User Group or leave blank for all User Groups.
Select a Staff member / Crew member by clicking the name to highlight it.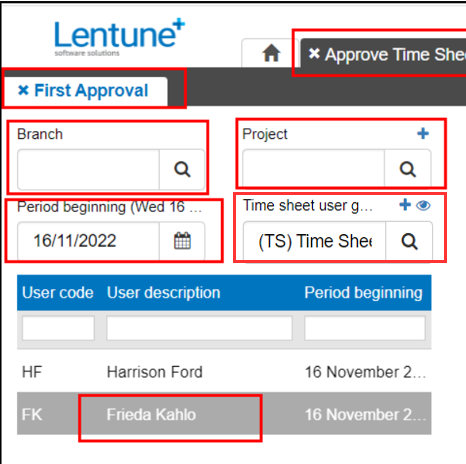 The Time sheets for that person will display on the right of the screen.
There are tick boxes to change the Time sheets that are displayed:
Show just my approvals: This shows only the Time sheets that you are able to approve.
Show all projects: This displays all projects, regardless of what you may have selected in the Project selection above.
Time sheets that you can approve are shown in green. This is determined by the Project that you have approval rights for.
Time sheets that you cannot approve are shown in black.
Leave requests are shown in grey and cannot be approved here. They must be approved in the Leave Requests > Approve dialogue.
You can click on any line to view further details for that entry.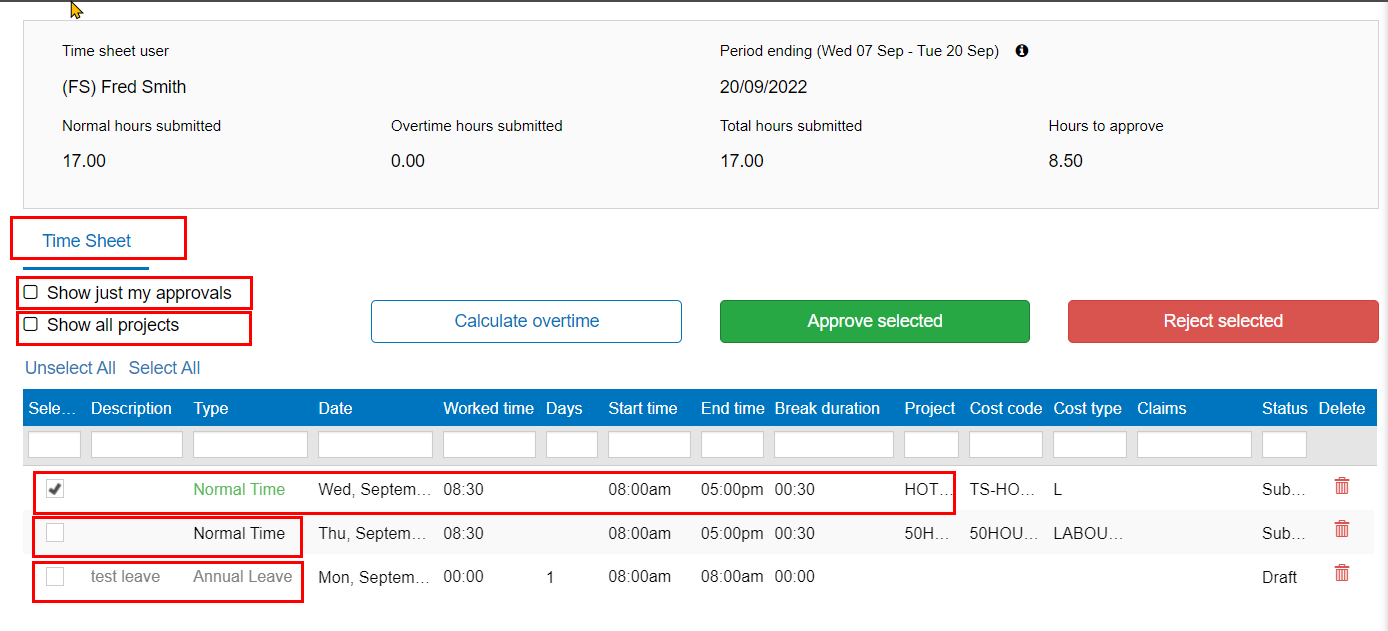 In the Time Sheet Entry screen, all details for the entry are shown.
Click Save and Close to return to the previous screen.

The lines will be a Status of Draft or Submitted. You may approve only lines with a Status of Submitted.
Click to select the Timesheets you wish to approve.
Click Approve selected to approve the selected entries for that person. The status will then change to FirstApproved.
The cursor will drop down to the next Staff member / Crew member in the left section.

If there is something wrong or that needs re-checking on the Time sheet entry, you can select that line and click Reject selected.
---
Approve Time Sheets in the Process screen
---
Watch the Video
Prefer to watch the video? Andrew takes you through the process:
---
Need more help? We're here! We hope our article was helpful! If you need more info or want to connect, drop us an email at support@lentune.com.
Thank you. We love to hear from you!
Last updated: 12 July 2023