Processing, batching and approving Time Sheets can check that the Time Sheet entry has a break of the minimum duration required for a day.
Time Sheet Manager Settings for Break Length
---
Introduction
In your Time Sheet Manager settings, you can determine the minimum length required for a meal break. This is used to enforce a minimum break on Time sheet entry.
This is then checked when the Time Sheets are batched and processed to be sent on to your payoll system.
---
Time Sheet Manager Settings for Break Length
To set up a minimum break length:
Go to Settings > Time Sheet Manager.
Check the field Create time entry for leave entry. (This must be set in order to use the minimum break duration).
Minimum meal break duration: Enter the minimum duration for a meal break length, e.g. 30m for 30 minutes.
Click Save.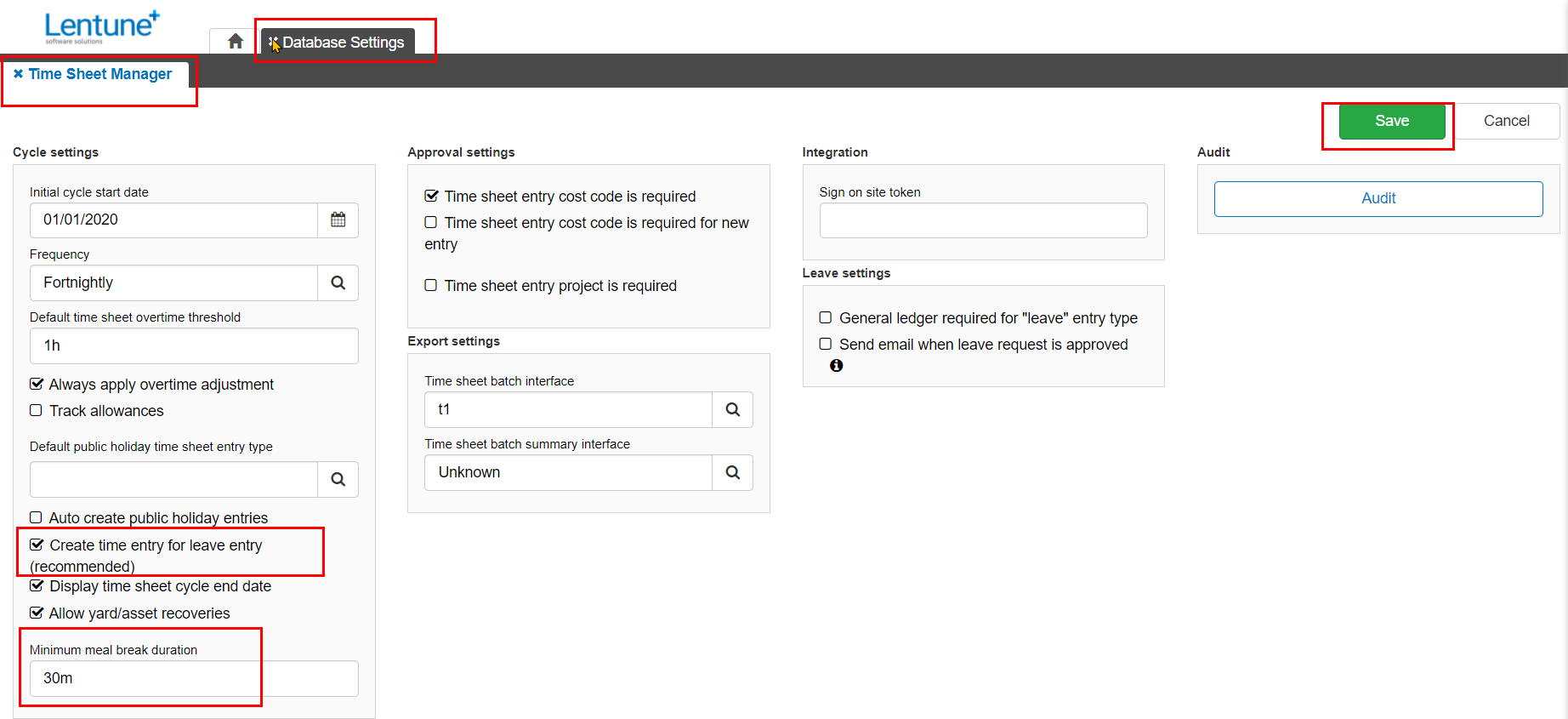 ---
Meal Break Length Checked
When the Time sheets are approved, processed or batched, the break duration for a Time Sheet is checked.
If the break length on the Time Sheet is less than the minimum break length, a warning is displayed and the Time sheet cannot be approved, processed or batched until this has been corrected.
Tip: You can also approve a time sheet from the Process screen.
Go to Time Sheets > Process.
Enter the Period you want to Process.
Click Search to see all Time Sheet entries for that period.
Tick to select the Time Sheets that you wish to approve.
Click Approve selected.


If the Break Duration on the Timesheet is less than the minimum break duration set in the Time Sheet Manager Settings, you will see a warning message like this:
Minimum break duration requirement of [00:30] for time sheet user [PERSON-NAME] on [4/02/2022] was not met.
The Time Sheet must be amended to correct the break duration, then re-submitted.
---
Need more help? We're here! We hope our article was helpful! If you need more info or want to connect, drop us an email at support@lentune.com.
Thank you. We love to hear from you!
Last updated: 26 October 2022