A Time Sheet Allowance can be associated with a specific Project.
---
---
Introduction
You can associate one or more Time sheet Allowances to a Project, so that these allowances can be calculated for Time Sheet Users who work on the Project. e.g. Height Allowance for working on high buildings. These are allowances that related to certain Projects. General Allowances, e.g. Meal allowance do not need to be set up like this.
You must have the Security Role of TIMESHEETALLOWANCEMTC to access this area.
---
Time Sheet Manager Field
The Track Allowances field in the Time Sheet Manager must be checked.
Go to Settings > Time Sheet Manager.
Track Allowances: Check this field.
Click Save and close.

---
Allowance Requires a Project
The Allowance must be flagged as requiring a Project. Then you can associate the
Allowance to one or more specific Projects, and it can then be calculated on Time sheets for people working on such a Project.
Go to Time sheets > Allowance Types.
In the Edit or Create Time Sheet Allowance window:
Select or add the Allowance Type you want to update.
Project Required: Check this field.
Click Save.

---
Edit the Allowance Type for the Project
The next step is to
Go to Administration > Projects.
Select your Project.
Click Edit Allowance Types.

In the Edit Allowance Types window:
All Allowances with the Project Required setting checked will appear in this window.
Check the Allowance/s that you want for this Project. e.g. Height Allowance.
Click Save.

---
Time Sheet Allowance Definitions
Your Allowance should have the following settings as per our example of Height Allowance:
Go to Time sheet > Allowance Definitions.
Select the Allowance you want. To set up a new allowance, please refer to Time Sheet Allowances: Defining, Creating & Calculating.
Scroll down in this window to these fields:
Creation type: Select Automatically create from the dropdown list.
Require claim: This should be Unchecked.
Click Save.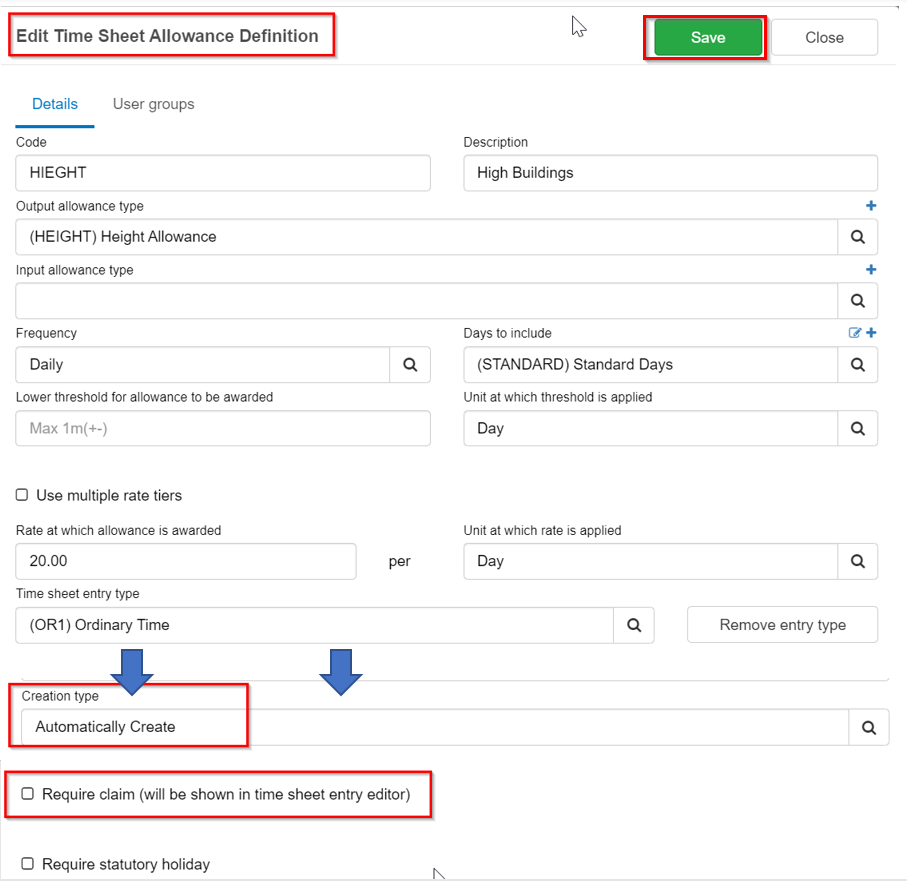 ---
Calculate the Allowance
Where you have a User's Time Sheet for a Project that has an allowance relating to it, e.g. Height Allowance, you can then calculate the allowance.
Go to Time Sheets > Time sheets.
Select the Time sheet User and period that you want.
Click on the date heading for the period.

In the Time Sheet window:
Go to the Allowances tab.
Click Calculate allowances.

The Project allowances for the time sheets in this period will be calculated. This example is set up to calculate a $20 Height allowance per day.

---
Need more help? We're here! We hope our article was helpful! If you need more info or want to connect, drop us an email at support@lentune.com.
Thank you. We love to hear from you!
Last updated: 25 May 2023