General Setup & Maintenance
Optimal browser settings & Screen resolution
Adjust your browser settings and screen resolution for a clearer view.
---
Introduction
Depending on your screen size and browser settings, some fields might look too small. In that case, you can adjust your settings for a clearer view.
---
Optimal Browser Settings
For working in Lentune, we recommend:
Optimal browser settings: Full HD 1920 x 1080.
Minimal Browser settings: 1366 x 768.
We recommend Chrome browser for best results.
---
Adjusting your Browser Zoom Percentage
If you're on a screen where there is a lot of data, such as a Sales Order screen and the description column is tiny, try zooming out to make it larger.
Conversely, if you are using a small screen, and cannot see the entire screen, you could try zooming in to show more on the screen without having to move the taskbar at the bottom of your screen bar left or right.
If you're using
Chrome
(recommended):
At the top right, click the three vertical dots:

On the dropdown menu, click the - or + beside Zoom to zoom in or out.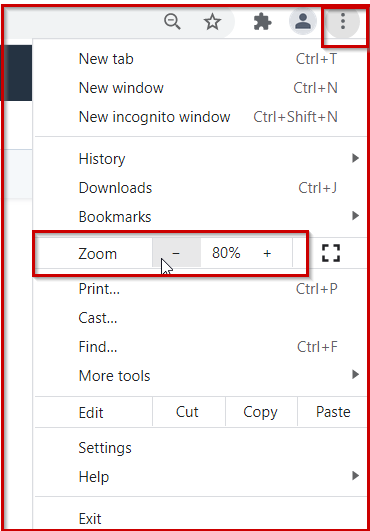 ---
Was this helpful? If you need more information, or would like to contact us about this article, please email us at support@lentune.com.
Thank you. We value your feedback.
Last updated: 14 February 2023