Here's a wrap up of what we've been working on lately.
Improvements
Time Sheet costs are now exported as spent costs.

You can now add variations to a time sheet via the mobile app.

It is now easier to create a new time sheet user.
If you put an invoice on hold, it cannot be checked through for approval until the on-hold box is unchecked.
You can now restrict Yard bookings from being entered within a certain time period before the start date, e.g. 48 hours. You can customise the time period in Lentune, although this can be overridden with the relevant security access.
---
Squashed Bugs
A payable invoice can no longer be posted to the Lentune Payables module more than once.

Batches can now include a full stop in their description without the export file failing.

It is now much faster to enter large numbers of items into the Yard module.
---
Improving Invoice Reading Accuracy
We are constantly working to improve the accuracy of Lentune's PDF reading. If your invoice data shows up incorrectly or you have a new supplier invoice that needs to be set up, please let us know by clicking More at the top of the check screen, then click Notify Lentune that invoice rule correction is required. We will apply the change within 48 hours.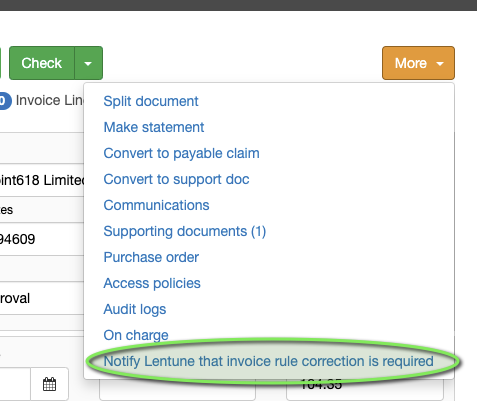 ---
Lentune Knowledge Base
Knowledge Base is our self-service portal where you can find answers and solutions at your fingertips.
If you can't find what you are looking for, let us know.
---
Got a good idea?
Do you have an idea for a new feature or how we can improve our current features? Please let us know!
Your ideas and feedback are an important part of our release planning process to make Lentune better for everyone.
---
We hope you are loving using Lentune and we would really appreciate it if you would write a quick review on Google. It is a great way for companies like yours to find us and grow their business with automation.
Thank you!
Lentune Customer Support Team

NZ: 03 351 9110
AU: 02 8103 4953
---
Last updated: 10 August 2022