Linking the PO line to the Invoice line automatically.
Activate the flag to link PO lines to Invoice lines
---
Introduction
Where you have a Purchase Order relating to an incoming invoice, you can set a control flag to automatically allocate the PO line to the Invoice line. This works where there is only one line on your PO. The amount excluding GST will be allocated to the invoice line, negating the need for the person checking invoices to manually enter that amount or percent complete relating to the claim line.
If there are multiple lines, auto-allocation is not activated.
---
Activate the flag to link PO lines to Invoice lines
To activate this setting:
Go to Administration > Settings > General tab.
In the right hand column, scroll down:
Populate payable invoice line with linked purchase order line: Check this field.
Click Save and close.

---
In the Check Invoice Screen
When you have this setting activated as above, and you are checking the invoice, you can see the amount of the invoice line that has been allocated to the PO, the Total commitment and the percentage complete for the PO line that it relates to.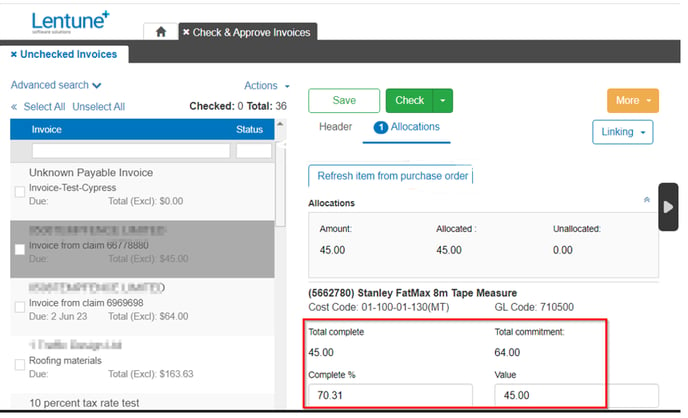 ---
Need More Help? We're Here!
We hope our article was helpful! If you need more info or want to connect, drop us an email at support@lentune.com.
Thank you. We love to hear from you!
Last updated: 14 August 2023