Send an invoice back to be re-checked
Send an invoice to be re-checked by the checking team.
---
Introduction
When you are approving invoices and you find one that needs to be re-checked, you can flag it to go back to the team or person who performs that task.
---
Send Invoice back to re-check
This can be done from the Approve Invoices screen,
To send an invoice back to be rechecked:
Go to Invoice Automation > Approve.
Select the invoice to be re-checked.
Click the down arrow on the green Approve and next button.
Select Requires rechecking.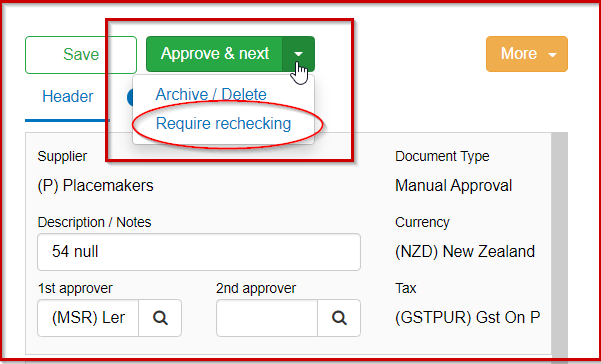 This will remove the invoice from your list and it will now re-appear in the screen for checking.
Tip: You may need to refresh your screen to update your list.
---
Was this helpful? If you require further assistance, or would like to contact us about this article, please email us at support@lentune.com.
Thank you. Your feedback is appreciated.
Last updated: 28 February 2022