Adding a new Project and explaining the tabs.
---
Introduction
Projects help you to manage various work and keep track of budgets and costs. You can assign Cost codes to Projects and set up the budgets for the Cost codes. Projects are required to set up a Head Contract in the Lentune Payment Claims module.
You can access Projects from the Administration and Payment Claims modules.
---
Add a Project
Go to Administration > Projects.
Click New Project.

In the Create New Project screen:
Code: Add a Code for this Project.
Description: Add a Description for this Project.
Branch: Select the Branch from the dropdown list.
Project Type: This defaults to Standard.
Default general ledger account: Select the general ledger account from the dropdown list. This allows data to flow through to your General Ledger reports.
Click Confirm.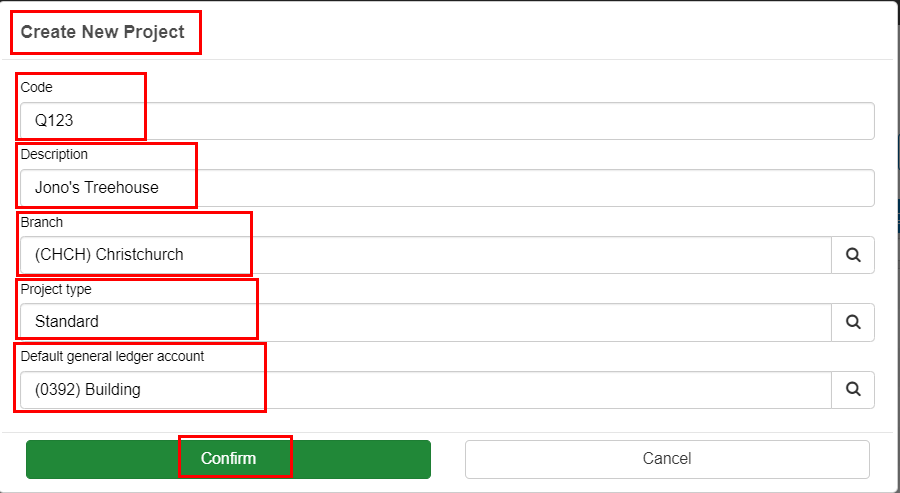 This takes you to the Details tab.
---
Details Tab
In the Details tab there are sections for Project details, Contract, Budget and Project Summary.
In the Project Details section you can edit details that you added, assign a Department or add a Delivery Address.
In the Contract section, you can view a summary of the Head Contract, if this Project is used in the Payment Claims module.
The Budget section shows the budget and variation figures.
The Project summary section shows the created date and time, and allows access to Cost Type visibilty.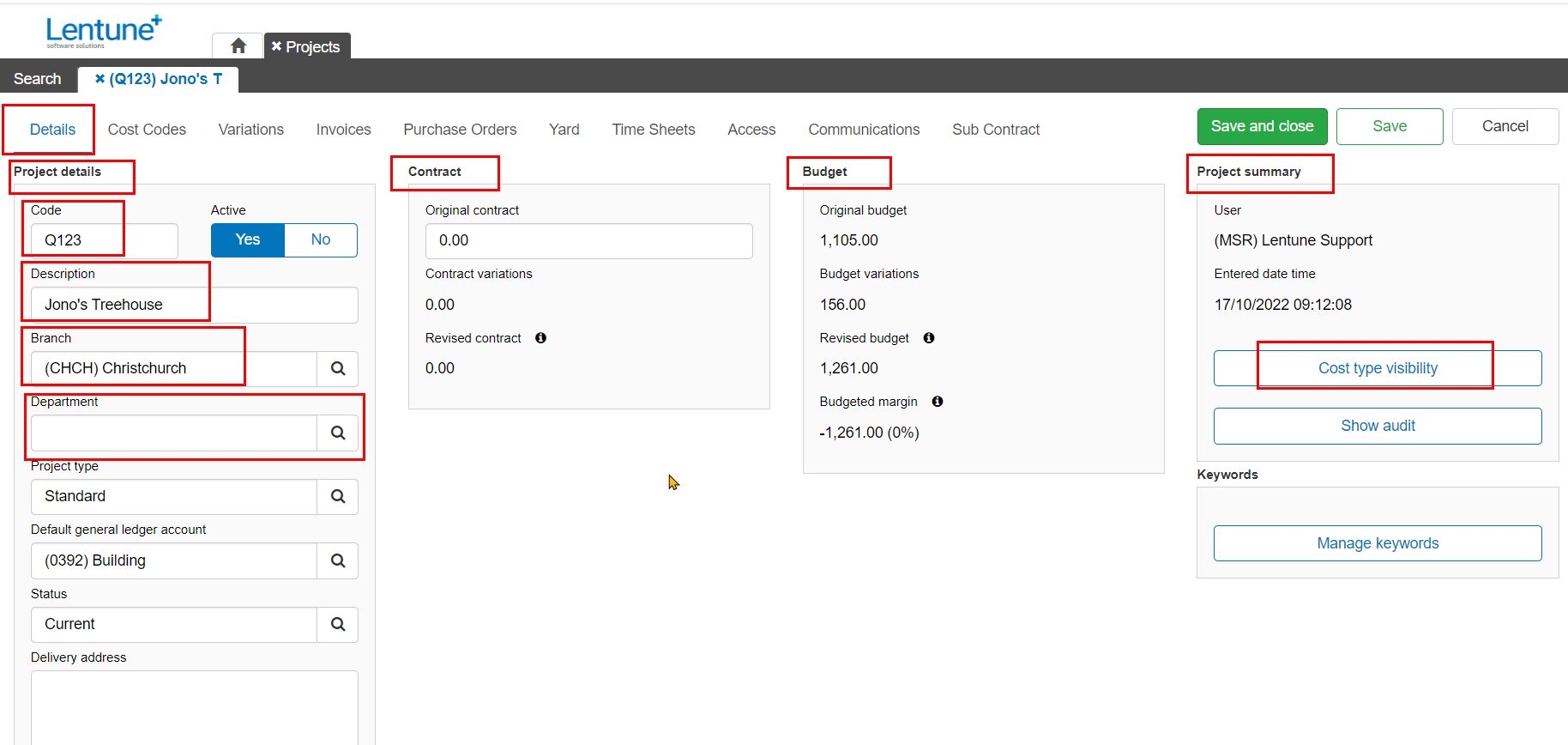 The Cost Code visibility allows you to control what modules Cost codes can be accessed. from. Refer to Project Defaults for Cost Code Visibility to read about this.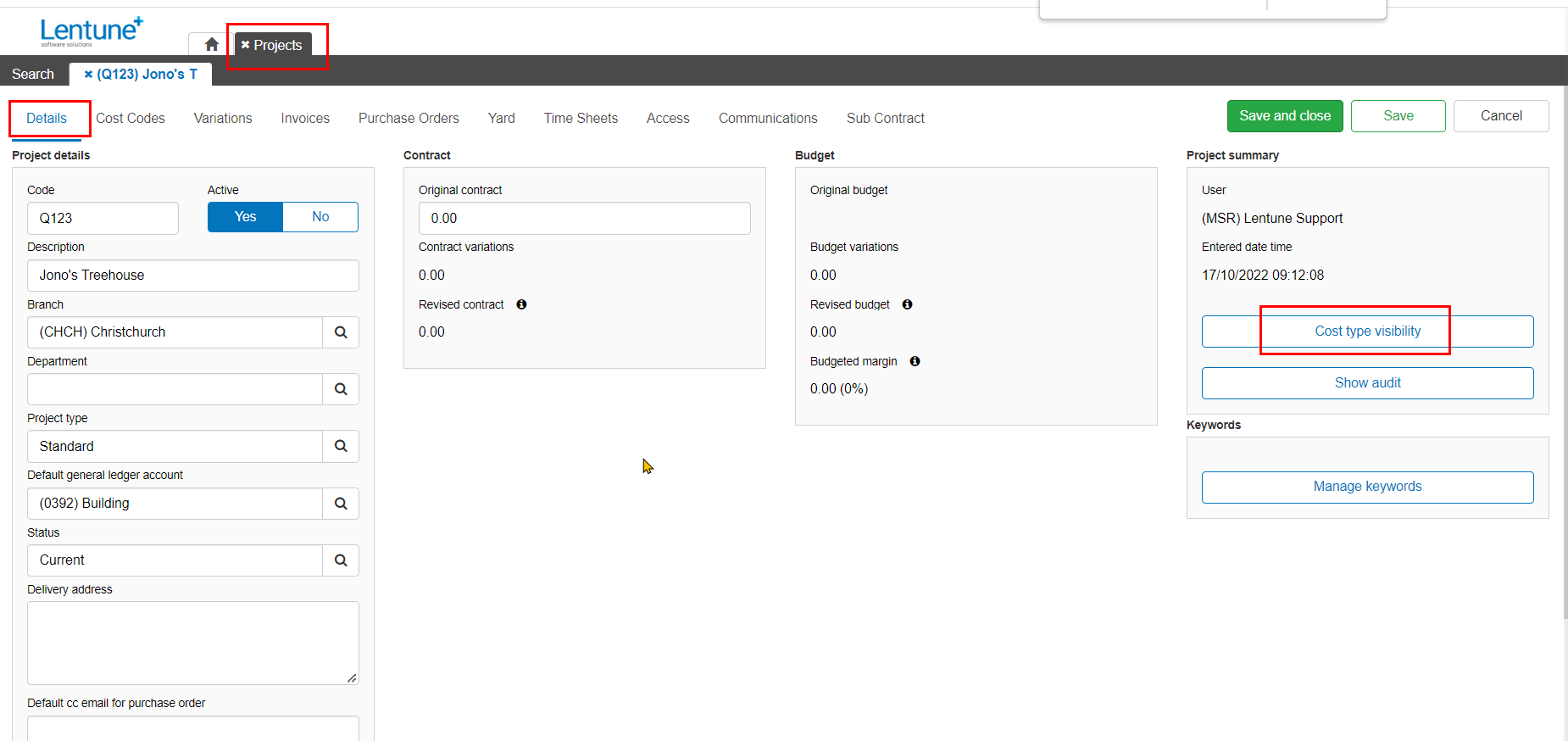 ---
Cost Codes Tab
On the Cost Codes tab you can add new Cost Codes to the Project. Then budgets for this Project can be allocated to the specific Cost codes. Double click on a Cost code line to review and edit the budget figures for that Cost Code. The budget and any budget variation are shown in the lines below in columns for each Cost code.
You can also view the summary of Forecast and Labour costs which come from the budgets on the Cost codes. Refer to Project Forecast and Labour Costs to see how these figures are calculated.
On the More button, you have access to Add Master Cost Codes to the Project, Copy Cost codes from another similar Project, export Cost codes to and import from Spreadsheets.

---
Variations tab
This area relates particularly to Payment Claims, although you can add variations for any Project.
Click New variation to add a variation.

In the Variations screen:
Cost Code: Select the Cost Code for this variation.
Amount: Enter the amount.
Code: Enter a variation code.
Click Add.
Add another line or click Finish.

Variation lines are then displayed on the Variations tab screen.
---
Other tabs
Invoice tab
The Invoice tab shows any invoices that have been created for this Project.
Yard tab
The Yard tab allows you to make and view Yard bookings.
Access tab
The Access tab allows you to determine which staff and Access Personas can access this Project.
Communications tab
The Communications tab records any communications that have been sent or received for this Project.
Sub contract tab
The Sub contract tab relates to the Payment Claims module where you can add Sub Contracts to a Head Contract. Refer to Payment Claims: Sub Contract claims for further information.
---
Forecast and Labour costs for Cost Codes
Refer to Project Forecast and Labour Costs for an explanation of the fields displayed in this section of the Cost Codes tab.
---
Was this helpful? If you require further assistance, or would like to contact us about this article, please email us at support@lentune.com.
Thank you. We really do appreciate your feedback.
Last updated: 3 November 2022