Case Study
Building efficiencies
Automating accounts payable has enabled big efficiency gains for Cook Brothers Construction.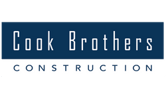 Company
With offices throughout New Zealand, Cook Brothers Construction is a nationwide business that has completed projects across the country. They offer construction management, construction services, design and build, and seismic upgrade solutions, with clients ranging from sports facilities to botanical gardens.
"It's just a great system for invoicing and purchasing."
Industry
Construction

Lentune Modules
Invoice Automation
Purchase Orders
Integration
Finbuild

Location
Nationwide, NZ
The situation
Cook Brothers is known for its ability to deliver construction projects of high quality within budget and deadlines. That means back office processes like invoice payments and purchasing need to be efficiently managed.
Originally Cook Brothers had created a bespoke accounts payable automation (APA) system of their own, but Chief Financial Officer Adam La Hood says that frustrations with it led to them considering an alternative. "The problem was finding a good developer and getting a solution up and running in a timely fashion," he recalls. "Consistency was also an issue, and it could be expensive when we ran into problems. The market had changed since we developed our own APA, especially with the move to mobile."
The solution
Cook Brothers had initially felt they could create their own solution that was cheaper, and could be tailored for their needs, in the end it didn't meet expectations. "Then I had a look at the Lentune product," Adam says, referring to the Invoice automation tool. When I had a discussion with them about what they could do, and what kind of functionality it had, it just made sense to bring it on board."
After working to understand Cook Brothers' requirements and the challenges that needed to be met in terms of accounts payable, Lentune were able to deliver the invoice automation solution to meet the company's needs. Although it hasn't been in use for Cook Brothers for long, Adam says they made the decision to include purchasing in the system as well. "It's worked so well for us that I wanted to bring our purchasing operation into Lentune as well," he explains. "We can keep all our purchasing and invoicing together, using a paperless system."
Results
A major benefit for Cook Brothers is being able to integrate supplier pricing books. This has eliminated the guesswork for the business, when their team are considering pricing. "The prices are already loaded in when they pick a product," Adam says. "It includes all the supplier products and codes as well. We did have that in the previous app, but it's more streamlined with Lentune."
Looking ahead, Adam says that the plan is to more embed the solution more fully into the company, including entering their credit cards. "There's an expenses module available," he explains. "It would mean we could have most of our spending all in the one system."
For Cook Brothers, Adam says the ability to now be paperless, and have a geographical spread of their operations is key. It's streamlined their invoicing and purchasing, making the processes much easier. "It's made things more transparent for our guys; they can see all their costs and expenses," he says. "It's just a great system for invoicing and purchasing."
"It's made things more transparent for our guys; they can see all their costs and expenses."
Free your business from manual data entry