PROJECT COST MANAGEMENT
Construction cost management, made easy
Keeping track of project spend can be tedious and difficult. We take away the pain by automating repeat tasks, and sorting all your costs in one place. So you'll have time and energy to refocus on what matters.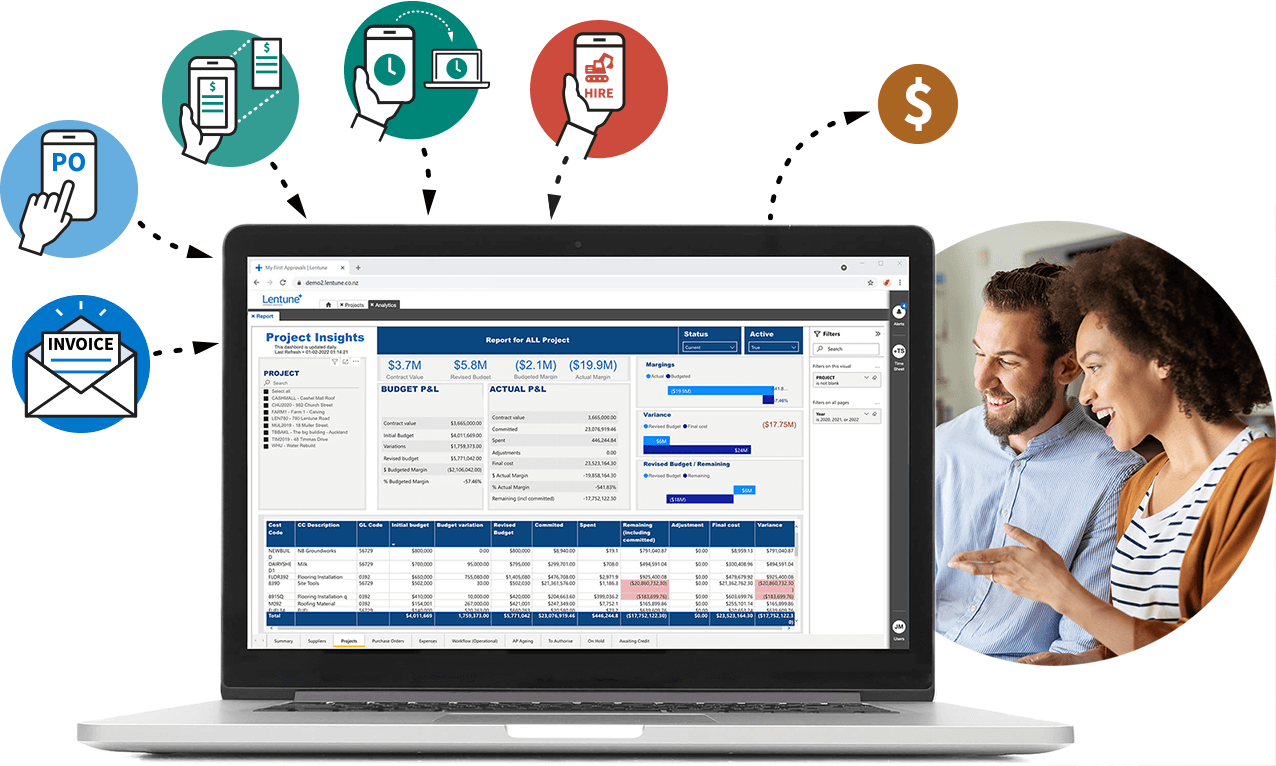 Still tracking project budgets with spreadsheets?
Endless spreadsheets and manual data entry lead to delayed updates and expensive mistakes. Lentune's construction project management software gives you real-time information and the best chance of minimising cost overruns.
FEATURES & BENEFITS
Next level understanding of your data
As soon as spent costs hit your inbox, they're accounted for against the project and tracked against the budget. Costs are even segmented by cost codes or variations for granular analysis.
Bring project costs to the surface. When your data is presented visually, you can easily spot trends, outliers and patterns that were previously hidden.
Have immediate access to back costing information and historical invoicing. Bolster supplier price negotiations and ensure accurate quoting for future jobs.
Empower your team with current information. Your visualisations are always available, empowering your team to make data-driven decisions at any time.
Take the guess work out of project costs. View committed and direct costs from POs, supplier invoices, labour costs and plant hires instantly against cost code and variations.
Access a dynamic, visual reporting tool powered by Microsoft Power BI. Reports surface the information that matters so you can dig deep into the detail at the click of a button.
Next Steps
We make it easy to implement Lentune
1. Request a demo
Complete the form and we'll get in touch to chat through your business challenges and walk you through how our software can help.
REQUEST A DEMO
2. Discovery call
We take the time to learn how your business works, so we can configure Lentune to suit your financials, approval process and organisation structure.
3. Onboarding plan
We'll send you a detailed implementation plan and timeline for onboarding. We'll schedule training dates and confirm your work processes with Lentune.
4. More time for growth
Our customers typically see changes in their business almost immediately. You'll have a clearer picture of your business financials so you can make confident business decisions focused on growth.