Timesheet Automation
Streamline your timesheet processes
Lentune Timesheets makes it easy to submit hours and process labour costs on the go. Users can submit their hours via our app, or timesheets can be bulk created by team leaders. Real-time capture of hours worked gives you a better handle of your project costs.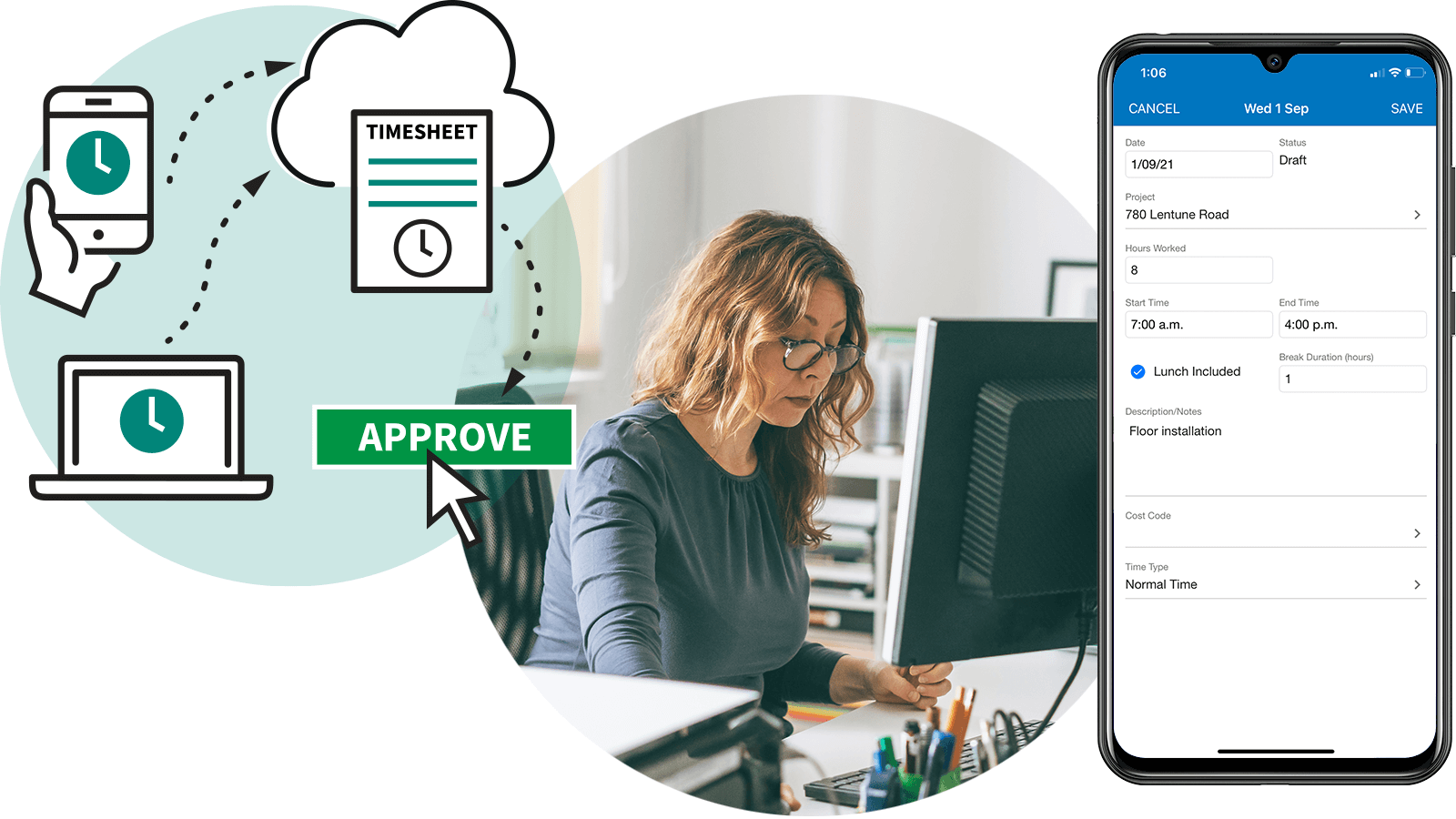 See labour costs against your projects
Timesheets are coded directly to projects as they are created. Allocate pay rates, overtime and allowances based on your business rules. Providing you with a detailed overview of labour costs on each project.
FEATURES & BENEFITS
Remove paper-based timesheets in your business
Paperless entry and approvals mean no lost paperwork. Automatically send hours worked to your payroll software and eliminate manual data entry of hours worked. Easy to enter hours with the timesheet app on the go.
Lentune Timesheets can be configured to suit your business rules. Allocate pay rates, overtime rates and allowances based on the needs of your business.
Timesheet invoice data is automatically coded to projects, giving you greater visibility of hours worked for each project. Easily compare hours worked against budgeted hours.
Everything is stored in the cloud, giving your team instant access to labour costs as your staff enter their hours into the timesheet app. Team leaders can approve timesheet invoices in one click, giving you greater control of labour costs.
Team Leaders can create timesheets for their whole team from one form. Hours can be coded to specific task codes within a project, so you can see where the work is being done.
Track billable hours against customers or projects then send this information to your finance software to bill customers directly. It's easy to stay up-to-date on what has been billed.
Know your labour costs in real time

We're supporting New Zealand and Australian construction companies to streamline their timesheet processes with our timesheet app. Chat with us to see how Lentune could support your business.

Timesheet Automation
How it works
Next Steps
We make it easy to implement Lentune
1. Request a demo
Complete the form, and we'll get in touch to chat through your business challenges and walk you through how our software can help.
REQUEST A DEMO
2. Discovery call
We take the time to learn how your business works, so we can configure Lentune to suit your financials, approval process and organisation structure.
3. Onboarding plan
We'll send you a detailed implementation plan and timeline for onboarding. We'll schedule training dates and confirm your work processes with Lentune.
4. More time for growth
Our customers typically see changes in their business almost immediately. You'll have a clearer picture of your business financials so you can make confident business decisions focused on growth.